Midland Door Solutions Customizes Bi-Fold Doors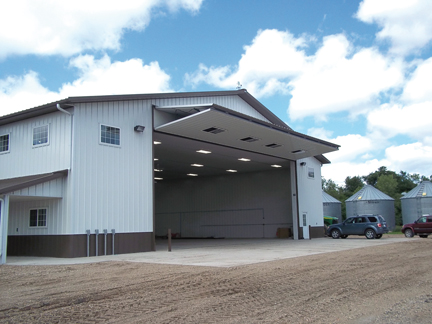 Midland Door Solutions manufactures and installs durable, long-lasting bi-fold doors for large agricultural, aviation and commercial buildings. The company custom designs each door to fit any new or existing building for safe and easy access. Beyond installation, Midland crews offer continual service to ensure customer needs are met for the lifetime of the door.
Midland's bi-fold doors contain heavy-gauge steel tubing and a unique truss system that are jig-welded for exceptional strength and durability. The doors do not obscure the building's opening, and equipment can use the full height and width of the doorway when entering or exiting.
Depending on the size of the door, power sources with outputs that range from 1.5 to 4 hp open the door. Optional integrated safety switches stop the door if anything interferes while it is opening or closing. Midland secures each door section with cold-formed steel hinges that are welded to the door's frame and linked together with 16 mm and 19 mm cold-formed hinge pins.
Midland doors also provide exceptional protection from the elements. Three types of insulation are available. A cloth-inserted rubber weather strip provides a weather-tight dual-seal on each side of the bottom of every insulated door.
Each bi-fold door is built to individual customer specification at Midland's new 3,700 m2 facility in West Fargo, North Dakota.
Source: Midland Door Solutions