Nominations
---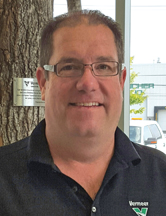 Vermeer Canada est fière d'annoncer la nomination de Shawn Regan comme gérant de territoire. Il compte plus de 20 ans dans la location et la vente d'équipements compacts et lourds auprès des compagnies Groupe Matthews, Hertz Skyway, Strongco, et Les Équipements Benco (Canada).
Monsieur Regan couvrira le territoire de la rive-sud de Montréal, la Montérégie, l'Estrie et le Centre du Québec.
De plus, la compagnie annonce la nomination de Martin Lapointe au poste de directeur des ventes. Il compte 15 ans d'expérience dans la vente d'équipements lourds spécialisés et de machineries, ainsi que dans la gestion de personnel des ventes. Il dirigera une équipe de 6 représentants et spécialistes de produits, pour le territoire québécois.
Bien établie au Québec depuis plus que 35 ans, Vermeer Canada a su gagner la confiance des Québécois grâce à ses équipements pour le paysagement, l'irrigation, l'élagage, les travaux sans tranchées ouvertes, la décontamination des sols et la réhabilitation de conduits. Avec plus de 2500 différentes pièces d'équipements au travail, ses départements de service et de pièces sont à l'œuvre pour vous avec un service d'urgence 24 heures sur 24.
Source: Vermeer Canada
---
MHPM Maîtres de projets vient de nommer Jean-Stéphane Bédard au poste de vice-président de son unité opérationnelle du Québec.
Monsieur Bédard compte plus de 20 ans d'expérience en génie civil et infrastructure au Québec et à l'international. Il a dirigé de nombreux projets d'infrastructure au niveau municipal et dans le domaine du transport, dont le complexe multifonctionnel Place Bell à Laval.
«Sous la direction de Jean-Stéphane, nous pourrons encore accroître notre réputation de firme-conseil digne de confiance au Québec. Cela nous permettra d'apporter à nos clients une expertise avérée en gestion de projets et qui est nécessaire pour en assurer le succès», affirmait Franklin Holtforster, président et chef de la direction de MHPM Maîtres de projets.
Jean-Stéphane Bédard détient une maîtrise en gestion de l'ingénierie de l'Université de Sherbrooke, un diplôme en gestion de la Harvard Business School et un baccalauréat en génie civil de l'École Polytechnique de Montréal. Il est membre de l'Ordre des ingénieurs du Québec et un gestionnaire de projets professionnel.
Source: MHPM
Appointments
---
NTEA – The Association for the Work Truck Industry recently appointed Christopher Lyon as director of fleet relations. He replaces Bob Johnson, who retired on October 9, 2015.
NTEA selected Christopher Lyon for this position based on his extensive industry knowledge and fleet experience. In 2001, he began his career with the Forest Preserve District of DuPage County. Most recently, he was responsible for all vehicle and equipment purchasing for the district's diverse fleet. He promoted the alternative fuel movement through active involvement with the Chicago Area Clean Cities and the Illinois Partners for Clean Air.
Mr. Lyon earned his Certified Automotive Fleet Manager's designation from the NAFA Fleet Management Association in 2009. He then served on NAFA's Certification Board from 2010–2013 and led its Curriculum Committee from 2013–2015. He holds a bachelor's in business administration from Elmhurst College.
---
Meritor, Inc. recently announced the appointment of Lewis Stern as director, field sales and service for Canada.
Lewis Stern is based in Winnipeg, Manitoba, and will lead 6 DriveForce district managers responsible for sales and service support for fleets, dealers and the OEM leadership in the Canadian region. He will work to identify new products that meet specialized fleet needs within different markets across Canada.
"As we continue to invest in our field organization in Canada, Mr. Lewis' role will be critical in carrying out Meritor's product strategy for our truck and trailer business across the country," said James Taylor, general manager, North America Field Organization for Meritor. "We recognize Canada as a unique, national market and want to take care of the fleets and dealers."
Lewis Stern was recently the COO of the U.S.-based Eastern Special Steel. He has held a number of leadership positions at Conforce USA and Truck-Lite.
Source: Meritor, Inc.
---
OACETT - Ontario Association of Certified Engineering Technicians & Technologists is pleased to announce that Bob van den Berg, C.E.T., is their new president, for a 2-year term that began on May 28, 2015. OACETT is the certifying body for engineering technicians and technologists in Ontario with more than 24,500 members province-wide. It confers and administers the professional designations of Certified Engineering Technologist (C.E.T.), Certified Technician (C.Tech.) and Applied Science Technologist (A.Sc.T.), which are recognized as marks of professionalism within the engineering team.
Mr. van den Berg comes to the position well prepared, having held volunteer positions at the executive level on the Government Relations, Professional Affairs and Services and Executive Committees. He served as chair of OACETT's Durham Chapter and is the past chair of the Program Advisory Committee for Durham College's Electromechanical Program.
A graduate of Ryerson University's Electrical Engineering Technology program, Mr. van den Berg is currently general manager of Murrelektronik Canada, a wholly-owned subsidiary of Murrelektronik GmBH that manufacturers automation components for industrial machinery and has offices in Mississauga, Ontario, and Montreal, Quebec.
Source: OACETT - Ontario Association of Certified Engineering Technicians & Technologists
---
Pat Griffin has been named president of Marmon-Herrington. With more than 25 years experience in the transportation industry, Griffin most recently served as vice president of sales for Fontaine Modification Company's Vocational Services where he was instrumental in the business unit's strategic direction and growth.
Prior to joining Fontaine Modification last year, Mr. Griffin held executive leadership positions in engineering, quality, and Lean Six Sigma with Wabash National Corporation and Hayes Lemmerz International. He holds a Bachelor of Science degree in welding engineering from The Ohio State University, and a Master of Arts in organizational management from Tusculum College.
Source: Marmon-Herrington