McNeilus Launches Rear Loader Organics Option
McNeilus Truck & Manufacturing, Inc., an Oshkosh Corporation company, introduced an Organics Package available for all McNeilus rear loaders, during Waste Expo 2015, last June, in Las Vegas.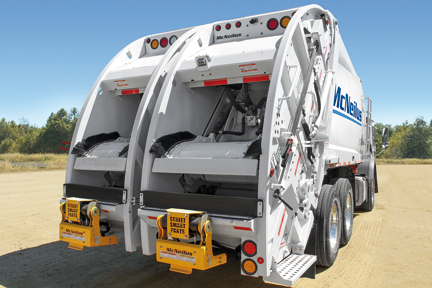 "As more communities, restaurants, food manufacturers and institutions are separating food waste, many of our customers are expressing interest in organics recycling," said Duane Speikers, McNeilus product manager. "Working with them to better manage their waste streams, we developed an organics option that fits any McNeilus rear loader, including trucks already in service."
This package features a standard 150 l leachate tank that captures and contains the liquids common to food and organic waste, as well as a drain port, for easier disposal. This leachate tank is also available in 190 l, 227 l and 340 l options.
Other exclusive features of the Organics Package include sweep panel seals, with brush skirting, to help hold in liquid as organic material is compacted. Load edge extensions increase the height of the hopper opening and further protect against leaking, along with an extended tailgate seal that runs along the full length of the tailgate.
The Organics Package is available as an option for any McNeilus rear loader and can also be retrofitted to existing fleets. An additional option are Excalibre™ slide and sweep cylinders that offer top protection against hydraulic contamination that can be caused by organic material.
Source: McNeilus Truck & Manufacturing, Inc.,
London Machinery Inc.