Anaheim Regional Transportation Intermodal Center
Wins National Steel Building Award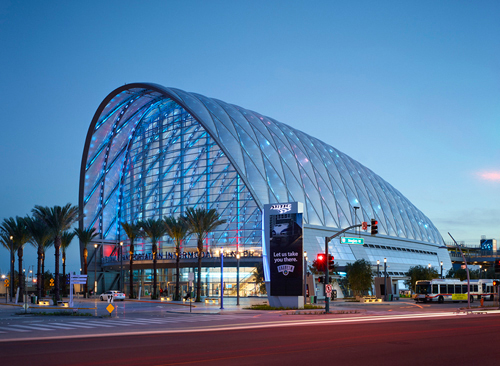 The Anaheim Regional Transportation Intermodal Center (ARTIC) in Anaheim, California, has earned national recognition in the 2015 Innovative Design in Engineering and Architecture with Structural Steel awards program (IDEAS2). In honor of this achievement, members of the project team were presented with awards from the American Institute of Steel Construction (AISC) during a ceremony at the facility on September 29.
Conducted annually by AISC, the IDEAS2 awards recognize outstanding achievement in engineering and architecture on structural steel projects across the country. The IDEAS2 award is the highest, most prestigious honor bestowed on building projects by the structural steel industry in the U.S. and recognizes the importance of teamwork, coordination and collaboration in fostering successful construction projects.
The facility's project team members include:
Owners: City of Anaheim Public Works, Anaheim, California; Orange County Transit Authority, Orange County, California;
Owner's representative: STV, Inc., Los Angeles, California;
Project manager: Parsons Brinckerhoff, Orange, California;
Architect: HOK, Culver City, California;
Structural engineer: Thornton Tomasetti, Los Angeles, California;
General contractor: Clark Construction Group, Irvine, California;
Steel fabricator: Beck Steel, Inc., Lubbock, Texas, (AISC Member/Certified)
Steel erector: Bragg Crane & Rigging, Co., Long Beach, California, (AISC Member/Advanced Certified);
Bender/roller: Whitefab, Inc., Birmingham, Alabama, (AISC Member).
ARTIC is a National award winner in the category of projects Greater than $75 million, making it one of only 4 projects around the country to receive the National honor. Each year, the IDEAS2 awards honor National and Merit award winners in 3 categories, based on constructed value. Each project is judged on its use of structural steel from both an architectural and structural engineering perspective, with an emphasis on: creative solutions to project's program requirements; applications of innovative design approaches in areas such as connections, gravity systems, lateral load resisting systems, fire protection and blast; aesthetic and visual impact of the project; innovative use of architecturally exposed structural steel (AESS); technical or architectural advances in the use of the steel; and the use of innovative design and construction methods.
ARTIC is the present and future of transportation in Orange County. A hub for rail, bus, auto and bike travel, ARTIC is also ready for high-speed trains and street cars, the region's next-generation transportation systems.
The facility, which opened last December, includes a 6,300 m2 terminal building beneath a soaring exposed steel structure. Rising from a height of approximately 24 m at its southern end to 35 m at the main entrance and public plaza, the structure is approximately 76 m long and 56 m wide and also includes a Metrolink/Amtrak concourse pedestrian bridge.
The terminal's tapering vault of crisscrossing parallel arches spans 56 m over a three-story interior housing retail, ticketing, offices and other amenities. The special concentrically braced frames of the interior structure provide a stiffened base for the shell arches.
The roof's sculptural form is a high-tech take on the simple lines of old airship hangars and the light-filled grandeur of historic train stations. The thin shell's curved geometry is optimized so that the amount of bending and deflection experienced under non-uniform environmental and seismic loads is minimized. The diagrid shell design has inherent structural redundancy and provides continuous load paths to transfer both gravity loads and lateral loads to the base.
The IDEAS2 award dates back more than 50 years with AISC. And about this year's winning transportation center, Roger E. Ferch, P.E., president of AISC, said: "The entire ARTIC project team has shown how structural steel can be used to create structures that combine beauty and practicality. The result is a transportation facility that serves its patrons extremely well, while providing an example of what can be achieved when designing and constructing projects with steel."