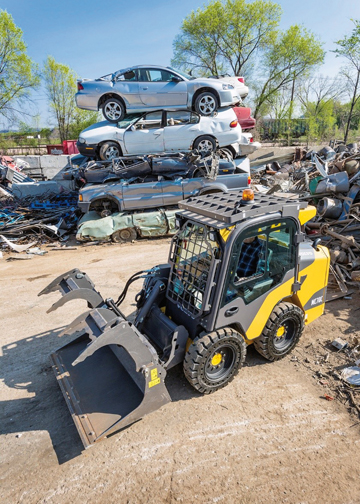 No Time to Waste in Minnesota
Winona, a city in Minnesota, is located in a picturesque landscape along the Mississippi River. It is the stained glass capital of the U.S. and, during the 1860s, southern Minnesota was the greatest wheat producing region in the country.
Gerald "Jerry" Matejka established Matejka Recycling in the town 40 years ago and is still running the company today, specializing in scrap metal recycling, construction, demolition and municipal solid waste (MSW) recycling.
The company is a transfer and repackaging facility with a dozen employees. With the help of machines, the company sorts, loads and ships 450 t of scrap each week to foundries, shredders and mills for final processing. More than 75% of the company's business comes from contractors within a 70 km radius of Winona.
"When I saw the Volvo skid steer with side entry, single arm loader design and scrap guard package, I fell in love with it," says Jerry Matejka. "It was becoming more difficult for me to use our existing loaders, due to the cumbersome front entry that had me crawling over the attachments to reach the cab."
The Volvo MC70C is the only skid steer in its fleet with a dedicated scrap guard kit. The radial lift loader's robust protection package includes FOPS and front screen guard, a 168 cm grapple and solid cushion tires. The machine is controlled using joysticks for increased comfort and performance. These intuitive controls remove the need to use both feet and hands to operate the machine and attachments. The spacious Volvo cab also features climate control for the hot summer months and cold winters.
With an operating capacity of more than 700 kg, the machine has the muscle to easily handle the variety of recyclables that pass through the yard using its Volvo scrap bucket. This includes both ferrous metal (carbon steel, stainless steel and cast iron) and nonferrous metal (aluminum, copper and tin). The Volvo skid steer is a material mover, sorting scrap iron and pushing debris into piles.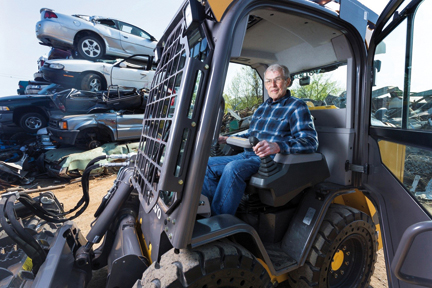 Mr. Matejka is always discovering more materials, particularly scrap iron from local farms surrounding Winona that can be reused and composted, adding to its recycling and sustainability efforts and also reducing the amount of waste generated. In 2012, it was estimated that Americans re-routed 78.5 million t of material from landfills, including food and green waste, paper, metals, and electronics.
Volvo CE originally donated the Volvo MC70C skid steer loader to the 2014 WasteExpo in Atlanta, Georgia, to benefit the Environmental Research and Education Fund (EREF) auction. It was Jerry's wife, Carole, who encouraged him to bid for the machine. "I knew it would keep him happy, doing what he loves," she said.
WasteExpo is the recycling industry's largest conference and trade show and, entering its 21st year, the EREF auction has raised more than $14 million to fund scientific research and educational initiatives for waste management practices. Volvo CE also continues to dedicate its values to environmental care and sustainability.
Source: Volvo Construction Equipment