Delivering High-Speed Communications into Harsh Environments
---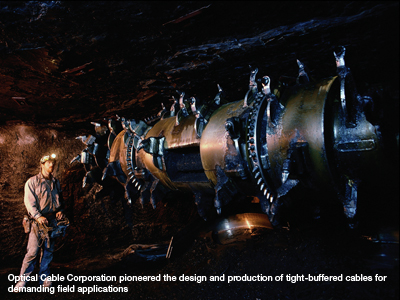 Lita Maspero, on behalf of Optical Cable Corporation
Reliable operation at 1000 feet below ground, while shrugging off cave-ins, proves that ruggedized high-performance fiber optic cables excel at bringing the efficiency of enterprise-wide communication into the field.
For those who believe that information is power, and who does not nowadays, extending an organization's knowledge base throughout the entire enterprise cannot help but improve operations. Until recently, though, field operations were often left out of the loop, as extending high-bandwidth communications into harsh environments often proved impossible due to thermal extremes, physical hazards, and caustic chemicals.
However, advances in the design and manufacture of extremely rugged fiber optic cables have now enabled the successful installation of 10-Gbit transmission links in the most unlikely places such as oil drilling platforms, electricity generating stations, refineries, water treatment facilities, steel mills, chemical processing plants and mining operations. The experience of one world-leading coal producing company exemplifies how plant managers can successfully enlist ruggedized tight buffered cables to help carry the efficiency of ERP communications into even the most challenging work environments.
"As part of our ERP implementation we extended our corporate network underground into our mines using fiber optic cable," said Tom Prokop, manager-Site Support for CONSOL Energy Inc. "We've actually had roof falls bury the cable between rocks and still did not lose data communications. Our maintenance personnel are now able to access our ERP system while underground at locations that can be up to 30 km away from their desks or the warehouse. Access to the corporate network allows them to order parts, look at electronic schematics, access monitoring data, no matter where they are in the mine. With a few hundred workers below ground, this immediate access translates into a time-savings that adds up in a hurry."
Digging for solutions
CONSOL's coal operations consist of 15 mining complexes located in five states. CONSOL Energy is the largest underground coal producer in the country, producing 67,4 million t in 2006 with 4,3 billion t of proven and recoverable coal reserves. With more than 7200 employees, CONSOL maintains a private R&D facility currently working with the U.S. Department of Energy and others on advanced technology for coal and coal-bed methane production and utilization.
Like other industries that operate within challenging environments, engineers at CONSOL sought to fully extend the high-speed communications previously restricted to administration areas for wont of physical-layer links that could shoulder the load in the field.
"We use mining systems that are highly-mechanized and capital-intensive, and they operate in tough conditions, so maintenance of these systems is a normal occurrence," explains Mr. Prokop. "We need access to the corporate network to allow the tracking of our maintenance in real-time. We also need to now know if it is more effective to re-build or buy new equipment in order to maximize the safety and efficiency of these operations. However, it's not uncommon for our main shafts to go down anywhere from 100 to 600 m and then have mine entries that extend horizontally for 5-30 km. It can take up to two hours - depending on what is going on underground - to travel from the warehouse to the active mining areas."
CONSOL's switch to SAP in 2002 provided the impetus for Tom Prokop and his team to search for a fiber optic cable that could withstand the mining environment, knowing that copper conductors would not work because of the excessive noise generated by mining equipment.
"We found very few fiber optic cables that filled the bill for our tough demands, but we finally narrowed it down to the tight-buffered breakout cable from Optical Cable Corp.," recalls Mr. Prokop. "Not only you could visually see that there was no comparison between it and the others, but we also checked the specification sheets and what our eyes were telling us was born out on paper - and later, in the field. I could have saved maybe 10-15% in costs going with a less rugged cable, but why would I run the risk of putting in a product that might fail on us?"
Optical Cable Corporation (OCC) pioneered the design and production of tight-buffered cables for demanding field applications. Its ISO 9001:2000-registered facility in Roanoke, Virginia, currently manufactures a broad range of fiber optic cables for high bandwidth transmission of data, video, and audio communications, including cables for the most demanding commercial, industrial and military environments. Drawing on years of product development and cable design experience, OCC's use of specially selected materials and its proprietary manufacturing processes contribute to the ruggedness of its products.
Ruggedized, tight-buffered fiber optic cable derives much of its reliability and performance advantages from its basic design. As opposed to loose-tube designs, which only have one thin coating surrounding each optical fiber, ruggedized tight-buffered fibers have two. In loose tube cable designs, the fiber coating is only 62 µm thick, providing minimal mechanical and environment protection to the glass fiber. In addition to the primary fiber coating, each tight buffered fiber has a secondary buffer that, together with the primary coating, reaches "heavy weight" proportions such as 387 µm. This is over six times thicker than the primary coating alone. In the breakout cable design, there is yet another layer of protection. Each tight buffered fiber is surrounded by aramid yarns and a tight bound elastomeric jacket. Even at this sub-cable level, the sub units are very crush resistant, rugged, and able to withstand environmental extremes.
In the case of Optical Cable Corporation, the sub cables are helically stranded and surrounded by a special formulation, pressure extruded outer jacket. This Core-Locked outer jacket locks all the sub elements of the cable in place. The cable structure therefore acts as a unit, much like a rope. This makes the cable usable in vertical installations, as well as greatly enhancing crush resistance, jacket tear resistance, and overall survivability in harsh environments. Some ruggedized tight-buffered fiber optic cables greatly exceed minimum industry standard requirements with a flex resistance of thousands of cycles, crush resistance of 2200 N/cm, and the ability to withstand 1000 impacts along with temperature extremes of -55 to +124°C.
"Safety issues also governed our choice because all underground cables have to carry the Mine Safety Health Administration certification to make sure they will not propagate a flame or give off toxic fumes," says Tom Prokop. CONSOL Energy currently enjoys a safety record of almost two times better than the industry average for underground bituminous coal mines.
Integrating a reliable underground network
CONSOL installed almost 100 miles of fiber optic cable across 10 different installations. Some of the cabling included copper conductors to handle the power requirements of several sensors and PLCs.
"This particular breakout cable is very easy to work with in the underground environment," says Mr. Prokop. "You can imagine that it's very dusty and dirty, so loose-tube gel-filled cable is harder to work with-if you set it down to do the termination, it would immediately pick up a wad of dust. But with the OCC dry breakout cable, we never had a degraded connection at assembly time."
Up to speed underground
With the fiber optic cable installation at the CONSOL mine sites complete, Tom Prokop's team could now take full advantage of the company's ERP system.
"Right now we're running a combination of 100 Mbit/s on multi mode fiber and 1 Gbit/s on single mode fiber," says Mr. Prokop. "Our maintenance crew can now access all maintenance records, look at schematics and order parts."
"In the past, they would have to exit out of the tunnel, get a manual, and open a 'shopping cart' above ground - it would waste an hour on average," continues Tom Prokop. "But this ruggedized fiber optic cabling has brought the timesaving convenience of enterprise-wide computing into our domain now. The cables have never failed us."
Under such circumstances, the value of high-quality, ruggedized tight-buffered fiber optic cables currently helps harsh-environment industries take advantage of the ultra high-speed links once reserved for white-collar campuses and administrative data centers.
"As with any company, CONSOL continually evaluates the market to make sure we are using the appropriate technology, but for now, the ruggedized Optical Cable Corporation fiber optic cable is our recommended cable for extensions of our underground network," adds Prokop. "We're thinking about stepping up to 10 Gbit sometime in the future, and we know that these ruggedized cables can handle it."