Dual Valve Controller with Electronic Assistant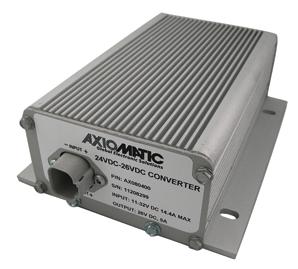 Axiomatic announces the release of a new multi-purpose Valve Controller with 4 universal signal inputs to 2 - 3A outputs, part number AX021800. This controller is part of a growing line of compact rugged controllers packaged for harsh operating environments.
The Dual Valve Controller is designed to control two proportional or on/off solenoid valves using PWM control from a variety of input sources. It accepts voltage, current, resistance, frequency, PWM, and discrete levels from four universal inputs. One unique feature is its ability to provide accurate power, up to 100 milliamp on each input. It also uses powerful 32 bit processing. The highly versatile AX021800 can also be used to support PID control and hydraulic fan control applications.
Electronic Assistant, together with an Axiomatic USB-CAN converter, links the PC to the CAN bus for user configuration.
It features flexible user programming for application-specific control logic via the CAN based Electronic Assistant. The controller's internal functional blocks for inputs, outputs and signal conversion or hydraulic control can be mapped to a control structure that suits the application.
It can be used without a load as a voltage or current signal to CAN converter.
Axiomatic is a provider of electronic machine controls, components, and systems to the off-highway, military, power generation, material handling and industrial OEM markets. The company provide efficient, innovative solutions that focus on adding value for our customers. We emphasize service and partnership with our customers, suppliers, and employees to build long term relationships and mutual trust.
Source: Axiomatic