Leica Geosystems' Rugby 55 and DISTOT D3 Instrumental in Museum Showcase Installation
Click Netherfield Ltd., international museum showcase designers and manufacturers headquartered in Livingston, Scotland, overcame challenging museum showcase installations in Alaska and Toronto by using Leica Geosystems' Rugby 55 laser level and DISTO D3 laser distancemeter.
Because Alaska's Anchorage Museum at Rasmuson Center resides in the Pacific Basin's "ring of fire", where seismic and volcanic activity is heaviest, Click Netherfield had to design a unique display system. Hanging the 12 x 18 ft. glass cases from the ceiling reduces their vulnerability to shifting floors during seismic activity, but intensifies the need for the glass panels to be perfectly plumb.
Working with the Gehry Partners of Los Angeles in the newly renovated Art Gallery of Ontario posed challenges of a different nature. Although the showcases in the Thomson Ship Models Collection Gallery are firmly anchored to the ground, they feature curved, serpentine glass to create a "wave" feel. Glass cases in the Thomson Collection of European Art Galleries are square, but incorporate high-end materials such as white marble, Douglas Fir, copper plate and cast bronze.
In both applications, because precision was key, Ryan Skorch, projects & development director for Click Netherfield, chose Leica Geosystems' Rugby 55 and DISTO D3 to ensure the accuracy of his measurements. Having discovered the instruments just days before setting off for Alaska, Mr. Skorch says he "fell in love" with them.
Designed for interior usage, the Leica Rugby 55 is built construction-tough. It features an easy-to-use keypad, watertight seal, variable head speeds, scanning modes that include a beam-down mode for plumb down alignment, and a rechargeable battery pack. Its scanning or stationary beam can be quickly positioned in 90° increments.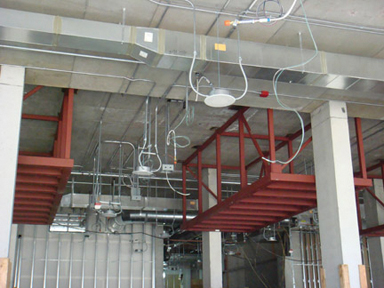 "The Rugby has a robust nature," Ryan Skorch vouches. "We can plumb a line up or down, from a tripod, the floor or even a column, allowing us to set a benchmark." Its scanning or stationary beam can be quickly positioned in 90° increments for easy right-left alignment, or, in "beam down mode," the rotating head automatically positions itself in a plumb down direction.
Lightweight and small, the multi-functional DISTOT D3 features an integrated tilt sensor that assists with indirect measurements so horizontal distances can be measured despite obstructions. It is also capable of measuring angles up to ±45° at the touch of a button. Another sensor assesses lighting conditions, automatically turning on the display and keypad illumination for working in poorly lit or dark conditions. "We put it on a tripod, hit a button and were off and running," Mr. Skorch says.
With three decades of experience designing, manufacturing and installing museum showcases, Click Netherfield faced its most complex applications in Alaska and Toronto, according to Ryan Skorch. He says the precision of Leica Geosystems instruments made his job easier.
Source: Leica Geosystems Inc.