ALS - Adaptive Load Sensing, Walvoil and Dieci Win the EIMA Technical Innovation Award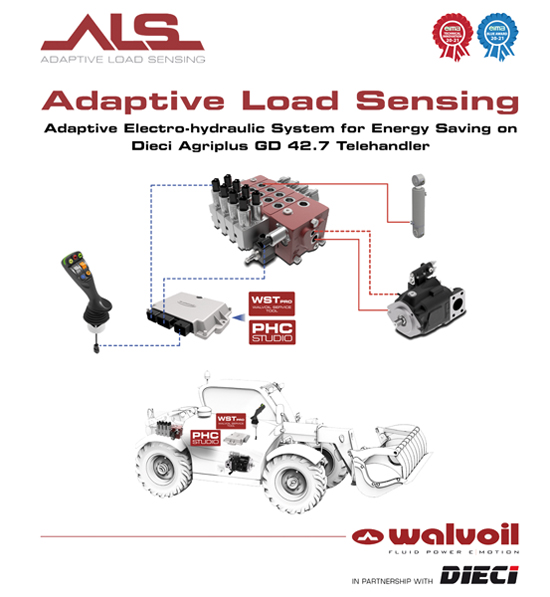 There is no doubt that "team work" increases the chances of success in achieving a shared goal, improving, in any case, the result obtained. This is the experience lived by Walvoil and Dieci in the "Technical Innovation Contest" of EIMA Digital Preview 2020 – they won both the prestigious "Technical Innovation 2020-21" Award, dedicated to machines and devices with features of absolute innovation, and the "Blu Award 2020-21", attributed to the solutions that outstand for environmental aspects.
The ALS - Adaptive Load Sensing system minimizes the dispersion of energy in the hydraulic system of telehandlers, considerably improving the efficiency of the vehicle and consequently obtaining a reduction in wear and consumption.
In order to ensure the simultaneous control of movements, the hydraulic pump generates a pressure higher than what is really necessary, a predetermined value called "stand-by pressure differential" – considered acceptable until now – which implies a considerable loss of energy, limiting the overall performance of the vehicle and unnecessarily increasing wear and consumption, to the detriment of efficiency and environmental impact.
The ALS modulates the "stand-by pressure" value according to the real needs of the machine, automatically varying it only when and how required.
In partnership with Dieci, the ALS system has been successfully tested on an AGRIPLUS telehandler, one of the top machines in the Dieci range for Agriculture.
ALS is made of a directional control valve, an electronic joystick, and an electronic control unit, with customizable modular software developed by Walvoil. The control unit collects information from the operations on the controls and from the machine sensors, and acts on the device, adapting the hydraulic pressure differential to the maximum efficiency value required by the vehicle.
During tests, the Walvoil-Dieci team found on the AGRIPLUS a drop in energy dispersion values equal to 28% during boom operations, and up to 45% during traveling phases, with a significant improvement in the overall machine performance at various speeds.
Source: Walvoil