Another First for Allison Transmission:
How to Haul 136,000 lbs With a 500 HP Cat C15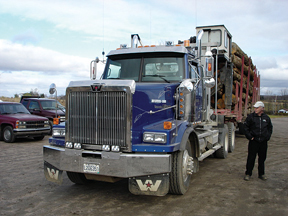 Last October I went to Mont-Laurier to see something new and unexpected. I was able to test the first "picker" log hauler sold in the area with an Allison transmission and a C15 Caterpillar engine. To make sure the equipment was up to the task there is nothing better than hauling a full load of wet logs up and down a logging trail. This is what the owner, Normand Paquette, and myself did with 62,000 kg of GCW. The test was amazing enough that organize a "Ride and Drive" day featuring the vehicle at the Western-Star dealer in Mont-Laurier.
The demonstration took place on December 11, just after the first major snow storm of the season. Under these conditions, the truck was able to impress the numerous visitors that were amazed its climbing ability and general performances. Several customers have already requested Serge Brisebois, President of Centre Du Camion Mont-Laurier Inc. to quote an Allison transmission on their next truck, whether it is for log or chip hauling or road construction and maintenance operation.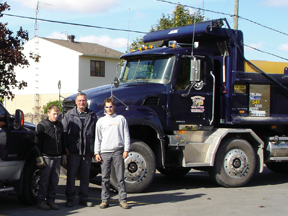 Another more conventional example
Yan & Phil Excavation is a company owned by Jean-Paul Schiele and his sons Yannick and Philippe. Based in Saint-Mathieu-de-LaPrairie, south of Montreal, it is specialized in landscaping operations. Like more and more small contractors in the construction industry, Mr. Schiele and his sons decided to order their 2004 Mack Granite 8x4, powered by a 427 HP engine, with an Allison Transmission.
Mr. Schiele told us how satisfied he is with the ease of operation and the performances of his Allison transmission perfectly adapted to his type of operations.
Source: Allison Transmission,
Jean-Francois Aussillou, (514) 528-6286