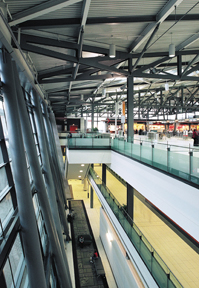 Genivar Wins an Award of Excellence for its Ottawa International Airport Expansion Project
The Ottawa International Airport expansion project recently won an Award of Excellence in the Building category from the Association of Consulting Engineers of Canada. Genivar carried out the structural engineering for the project. The prestigious award recognizes and celebrates excellence in engineering and major achievements of Canadian engineering firms.
The centrepiece of the Ottawa International Airport expansion is a new $200-million, 650,000 square foot world-class passenger terminal. The project also included a $100-million apron and roadway renovation.
"Carried out in fast track mode and delivered six months ahead of schedule, the expansion project involved a number of significant challenges, in particular technical challenges," said Structural Project Director Jacques Sauve, P.Eng. "The project's complexity was rooted in its structural concept, which necessitated the development and application of innovative techniques, many of them advances in the engineering field. The project team, which included Patrick Lamontagne, P.Eng., Mark Nicoll, senior tech., and Marc Audette, senior tech., did a remarkable job and provided unflagging support throughout the project."
The innovative approaches developed by the team included a technique for applying common shrinkage and creep control methods to the large-scale continuous concreting of deep foundation walls, Mr. Sauve explained. The use of friction foundation piles to provide a earthquake resistance, continuous architecturally exposed feature trusses and bracing, a prototype design for stabilizing snowdrift loads on the roof, a method for achieving a long, joint-free building and the production of highly detailed scaled 3-D shop drawings all constituted technical advances from an engineering viewpoint.
The project's most unique feature is the exposed steel structure design of the terminal's roof, which uses high-quality, high-finish, stylized structural components to create an elegant, avant-garde effect. The expanded airport joins the ranks of world-class air transportation facilities and reflects the importance of Canada's capital.
With nearly 900 employees in 25 offices, Genivar is a Canadian leader in engineering and construction. Founded 45 years ago, the company has carried out projects in more than 30 countries, including Canada, Europe, Africa and the Caribbean.
Source: Genivar Inc.