Viking Mag Drive® 855 Series sealless gear pumps
reduce pump downtime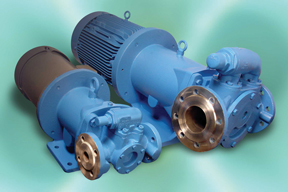 The new Viking Mag Drive® 855 Series internal gear pumps offer exceptional reliability through their robust, sealless design, which eliminates seal leakage. The pump's driver turns an outer magnet, whose force passes through a stationary O-ring-sealed canister to turn an inner magnet, which drives the pump shaft without the need for seals. Features of Viking's Mag Drive 855 series include adjustable end clearance to maximize efficiency and ANSI- or DIN-flanged ports for sealing reliability. They may be close-coupled to NEMA C or IEC B5-flange motors, or long coupled.
Long field life and reduced downtime are also ensured by a thrust-controlled design that allows short-term run dry capabilities. This greatly reduces the possibility of damage from priming and accidental empty tank situations. Additionally, the Mag Drive 855 pumps are designed for easy draining, disassembly, repair and reassembly, with a minimal number of parts - keeping maintenance costs low.
This series of pumps offers flow rates of up to 135 gpm, with pressures up to 200 PSI, at temperatures ranging from -60° to 500°F (-51° to 260°C). The pumps are ideal for hazardous or hard-to-seal liquids or where minimal maintenance is required.
Source: Viking Pump Inc.