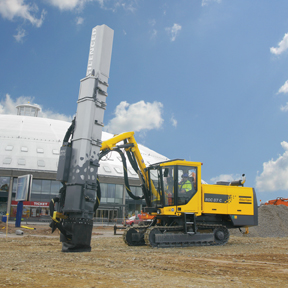 Schhh Low Noise Crawler at Work !
Atlas Copco, the leading drill rig manufacturer, is set to launch the world's first ROC series surface drill rig with a substantially reduced noise level making it the quietest-running rig of its kind.
The Silenced ROC has a noise level of approximately 10 dB(A) below that of other rigs on the market, which enables it to be used in very restricted worksites in urban areas.
Combined with lower fuel consumption and increased drilling capacity, the new Silenced ROC ­ designated as an option on ROC D7C ­ represents a major step forward for the drillers' working environment and an ideal choice for small and medium-sized quarries and civil engineering work sites.
Noise a key factor
In many countries, strict noise restrictions are imposed for drilling in urban areas. This presents new opportunities for companies using Atlas Copco's new Silenced ROC. The rig's Silencing Kit reduces the noise level by more than 10 dB(A) which makes it possible to drill virtually anywhere.
Atlas Copco has a clear strategy when it comes to environmental and safety issues, says Anders Hedqvist, D&D Manager Atlas Copco Surface Drilling Equipment. We are in the forefront of the development and the Silenced ROC plays an important role in this work. In the future, people who live near a quarry or construction site will have quieter surroundings.
Drilling noise is generated by vibration in the drill steel, feed system, boom and body of the rig. The advanced silencing system consists of many components which reduce the overall noise level, but the most noticeable is the hood that covers the mast.
Lower fuel consumption
The advanced and more efficient hydraulic system together with the new, more powerful Caterpillar engine makes it possible to lower the idling rpm and to choose the optimal power needed for drilling in different rock conditions. This makes it possible to lower the fuel consumption by up to 30% compared to similar rigs on the market.
Increased production capacity
The popular ROC D7C is operated by a digital RCS system. This system is now upgraded and the new version makes it possible to increase the shift capacity through faster positioning.
Half of the time on each shift is used for actual drilling with a rig and half for tramming, positioning, rod adding and preparation for drilling, says Lennart Lundin, Product Manager, Surface Drilling Equipment. By using the new ROC D7C, with its automatic rod adding and auto feed alignment system, the productivity can be increased by 10% or more.
Source: Atlas Copco