Biogenie Inaugurates UK's 1st Contaminated Soil Treatment Facility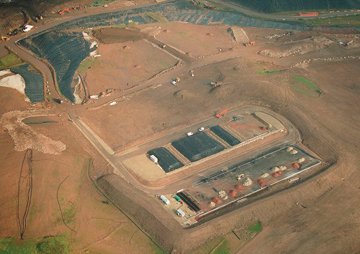 On November 8, 2005, Biogenie inaugurated the UK's first fully licensed contaminated soil treatment facility. Located in Warrington, near Manchester, the facility represents a $ 2 million investment made jointly by the company's UK affiliate, Biogenie Site Remediation Ltd., and its strategic ally, Biffa Waste Services Ltd.
The new facility was inaugurated by the President of the UK's Soil and Groundwater Technology Association, Dr. Colette Grundy, David Knott, Landfill Director at Biffa Waste Services Ltd., and Benoit Cyr, President of Biogenie.
"Under new European regulations, the number of landfill sites authorized to accept contaminated soil has fallen dramatically in the UK, from two hundred to a dozen or so. These regulations, along with a national brownfield regeneration policy, have opened up a large market in the UK for the off-site treatment of contaminated soil. The new regulations further require that a greater volume of contaminated soil be pre-treated prior to its disposal in landfill sites. In order to strengthen our position in this market, which we entered in 1998, we developed a strategic alliance with one of Britain's largest integrated waste management companies, Biffa Waste Services Ltd.," stated Mr. Cyr.
Biogenie's expertise in operating soil treatment facilities is combined with Biffa's vast distribution network and client base. In addition, Biffa will make beneficial use of the treated material at its landfill sites.
Biogenie's Treatment Facility Development Project Director, Bryan O'Gallagher also stated that this strategic alliance confirms Biogenie's leadership in the design, construction and operation of contaminated soil treatment facilities. "This new facility, in association with Biffa, will provide real estate promoters, property developers and house builders with a rapid, cost-efficient and final solution for contaminated soil found on their construction sites. As the contaminated material is quickly removed from the site, the construction project can move ahead without delay." It is worth mentioning that housing needs in the UK are estimated at 2,5 million new dwellings over the next two decades and that public authorities have set a goal of having, from now until 2008, 60% of the new units built on brownfield sites that will require cleanup.
In addition to its new facility in the UK, Biogenie owns and operates a total of seven other treatment facilities = six in Canada and one in France. In Montreal, the company operates Canada's largest biological treatment facility through its subsidiary Solution Eau Air Sol. In 1999, Biogenie established the first contaminated soil treatment facility in the greater Paris area. It is the largest facility of its kind in France. Since 1993, Biogenie has successfully remediated over 2,5 million t of soil impacted with a wide range of contaminants, including petroleum hydrocarbons, pentachlorophenol (PCP), creosote and PAHs.
Source: Biogénie S.R.D.C. Inc.