IPDSteel Articulated Two-Piece Pistons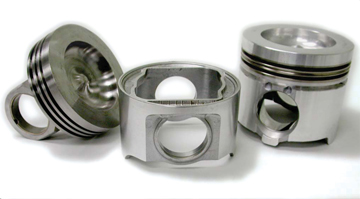 IPD LLC of Torrance California announces the first in its product line of Aftermarket Articulated Cast Steel Piston Crowns with Aluminum Skirt for use in Caterpillar® 3114 & 3116 engines. These IPDSteel pistons are patent pending and will soon be available for other applications.
According to IPD, this innovation is important to the independent aftermarket as it will offer a choice when it comes time to repair engines with products that have been previously restricted to only OEM suppliers.
Also available from IPD is a complete range of products including aluminum pistons, overhaul kits, valve train products, bearings and component parts.
IPD has been in business for over 50 years supplying the independent aftermarket with high quality parts and components for Heavy Duty Diesel and Natural Gas Engines.
Since 1955 IPD has been synonymous with quality, innovation, service and support. IPD has been involved in many areas of equipment repair parts in the past including the manufacturing of many of these items. The company's focus going forward however is on our product line of engine parts for Caterpillar® Engines.
A background in manufacturing gives IPD the detailed requirements on its products that set the standard for quality in the replacement industry. IPD has the capabilities of worldwide manufacturing to assure the high quality that our customers expect.
Source: IPD LLC

All manufacturers' names, numbers, symbols and descriptions are for reference only. It is not implied that any part is the product of the manufacturer. Caterpillar® and Cat® are registered trademarks of Caterpillar, Inc.