Carbon Fiber Technology Delivers Structural and Aesthetic Advantages in Resolving Foundation Failures
---
Bob Thompson, P.E., Nationwide Reinforcing Ltd.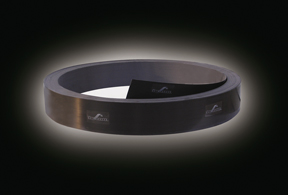 With the foundation repair industry growing to more than $10 billion annually, residential consumers and commercial builders alike are realizing that foundation failures can lead to sagging real estate values. In most cases, the best defense for foundation failure is a good offense. The development of The Reinforcer®, a recently patented carbon fiber technology system, is providing an advanced alternative for repairing and strengthening foundation walls.
Developed by Professional Engineers at Nationwide Reinforcing, Ltd. (Columbus, OH), the externally bonded composite reinforcing system is a Carbon Fiber Reinforced Polymer (CFRP) which is lightweight, non-corrosive and virtually impossible to stretch. The carbon fibers form in an epoxy resin matrix which has a tensile strength of more than 350 000 pounds per square inch (psi): making it 10X stronger, and therefore, superior to steel which has a tensile strength of 36 000 psi.
To date, the process of installing steel beams with heavy equipment (digging, jack hammering, moving utilities and duct work, etc.) has been the primary way to brace and shore up existing foundation walls. The Reinforcer® is essentially a carbon fiber "strip" or "strap" which is only 10 mm wide and 1,15 mm thick, making these old and intrusive methods appear antiquated.
Design/Engineering Philosophy:
A foundations' structural integrity becomes jeopardized when hydrostatic and lateral earth pressures exceed the strength of the concrete or masonry wall. These lateral pressures barrage the foundation and cause the walls to bow inward. The philosophy behind The Reinforcer® is based on standard engineering principles following Hookes law, and a linear stress strain relationship.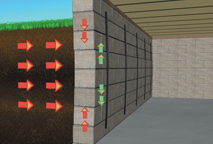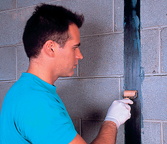 Bob Thompson, co-founder of Nationwide Reinforcing Ltd. and also a Professional Civil Engineer, noted the products' simple engineering design philosophy stating: "For every increase in pressure, The Reinforcer® provides an equal and opposite resistant force; making the wall stronger which helps eliminate shifting, cracking and bowing."
Thompson also noted the ease-of-use and aesthetic benefits of the carbon fiber system stating: "Being lightweight and thin-as-a-dime, The Reinforcer® is easier and faster to install. This is particularly beneficial around complex plumbing and electrical systems that otherwise might have to be removed and reinstalled. It's also a significantly more attractive solution. Once the block wall has been painted over, The Reinforcer® is virtually concealed. In essence, it's a simpler, more attractive solution than installing steel I-beams."
The installation process is simple, fast (approximately half the time vs. other solutions) and therefore cost-efficient. The high-strength carbon Reinforcer® strips are supplied on 76,25 m continuous rolls, cut-to-length, and spaced based on the engineering design charts prepared by Nationwide Reinforcing's engineers. The block walls must first be cleaned of all paint and debris prior to installation. The Reinforcer® strips are then applied with a structural epoxy paste (ECS 104) along the interior surface of the bowed or cracked walls. Removing excess epoxy off the strips and filling remaining cracks with ECS 104 completes the installation.
Foundation failures represent a stigma (both real and perceived) for homeowners; fearing the real estate value of their home may be compromised and the structural integrity of the home inadequate. Certified home inspectors, engineers and real estate agents are often the initial advocates of the product as they're relied upon initially to direct consumers to the most efficient solutions available. As a testament to this, certified installers have completed over 20 000 residential Reinforcer® installations across the U.S.A. and Canada.
As competition and technology continue to converge, engineers and contractors are seeking out more advanced material alternatives, such as Fiber Reinforced Polymers (FRP), over conventional steel and wood for construction applications. This trend is based on a variety of design flexibility and material performance advantages; i.e. - lighter weight, easier installation, higher strength and the non-corrosive ability to withstand harsh environments.
Advancing this trend, The Reinforcer® carbon fiber strengthening system continues to evolve as a preferred specification in a vast array of commercial construction applications: from bridge decks-to-parking garages and culverts-to-stadiums. The products' inherent material performance benefits also allow the construction industry to easily comply with increased design load specifications and keep ahead of ever-changing Code requirements.
Manufactured and distributed by Nationwide Reinforcing Ltd. since 1998, The Reinforcer® comes with a lifetime manufacture's warranty. The company also produces a unidirectional sheet/fabric made with high-strength carbon or glass fibers called The Reinforcer Shield. This product provides the capability of conforming to irregular shapes such as circular or square columns. It's excellent for flexural and shear strengthening and can provide a water proofing membrane for foundation walls.