Volvo CE Announces Its New G900 Motor Grader Range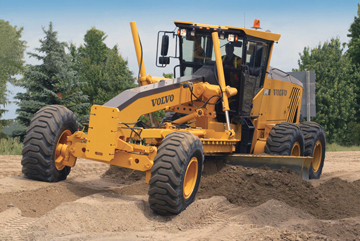 Volvo's new seven models G900 range of motor graders is built on two distinct but integrated platforms. The G900 range is designed to combine the attributes of productivity, operator friendliness, reliability and ease of service ­ in a quality package.
Each G900 Motor Grader features EU Stage IIIA and US Tier 3 compliant Volvo D7 or D9 engines utilizing Volvo Advanced Combustion Technology (V-ACT) to run cleanly and without the extra service requirements of additional equipment or after-treatment of exhaust gases. All seven models have three power ranges, depending upon the transmission gear selected, as standard equipment. This feature works to optimize engine performance and enhance overall fuel efficiency by matching engine power to the application.
Wide stance blade lift cylinders coupled with the low angle side shift cylinder provide the most stable grading platform in the industry. Proportional Demand Flow (PDF) intelligent load sensing hydraulics and a powerful twin-gear, direct drive circle turn system result in a precise, instantly responsive earthmoving tool. It also provides high strength to hold or turn the moldboard smoothly while moving under full load. This accuracy of control and performance results in more 'one pass' finishes ­ contributing significantly to productivity and cost saving.
The G900 range of motor graders uses Volvo's own HTE840 transmission which has selectable Manual, (optional) Autoshift and Travel modes. With Autoshift the operator selects the target gear and the transmission shifts automatically through turns and grades as needed. Its shuttle shift feature aids quick, simple duty cycles by allowing shuttling between selected forward and reverse gears in a single smooth motion without clutching or pausing, greatly reducing operator fatigue. Autoshift comes as standard on the Volvo exclusive HTE1160 transmission. With 11 forwards and six reverse speeds, the HTE1160 transmission allows more control, more efficient travel and more precision.
The two All Wheel Drive (AWD) models in the range offer three distinct features in their drive systems. The powerful six wheel drive combines with an efficient four wheel tandem drive and a "front-wheels-only" Creep Mode which is ideal for precise fine grade applications. Whether it is the versatile G946 or the industry's largest All Wheel Drive grader, the G976, Volvo AWD models really are motor graders for all occasions.
With the support of the worldwide Volvo CE dealer network, the new G900 family of Volvo Motor Graders sets a new standard in grading performance and productivity.
Source: Volvo Construction Equipment