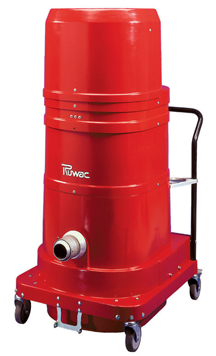 DS 2 Powerhouse Series Vacuums Rated for Continuous Duty Applications
Ruwac introduces the newly redesigned DS 2 Powerhouse Series vacuums, suited for continuous dust extraction. Ideal for any industry dealing with fine, dry problematic materials like powder and dust, the Powerhouse Series is powerful enough to be used in central vacuum systems while remaining portable and features a newly redesigned, maintenance-free filtration system.
Powerhouse Series vacuums can perform all day, extracting fine materials such as concrete, plaster, and soot without loss of performance. Clean, dust-free environments are essential for productivity and health in the workplace. The DS 2 Powerhouse Series now features Ruwac's latest innovation: a maintenance-free filtration system with an improved dirt release function, extending filter life and reducing downtime. Equipped with an oversized, pleated MicroClean filter, the Powerhouse Series is 99,9% efficient at 0,5 µm, removing fine dust from work environments. Powerhouse Series vacuums range from 7,5 m3/min to 14,3 m3/min and include a foot lever activated, extra-large drop down dustpan for easy, dust-free removal of collected debris. All vacuums are HEPA-ready for absolute filtration and adaptable to central vacuum systems or pre-separation systems.
A variety of accessories and options are available. Portable, compact, and extremely durable, the DS 2 Powerhouse Series provides a simple solution to any cleanup application.
The Powerhouse Series and the rest of Ruwac's industrial vacuum line will be featured at the 2007 World of Concrete in Las Vegas, Nevada, January 22-26.
Source: Ruwac