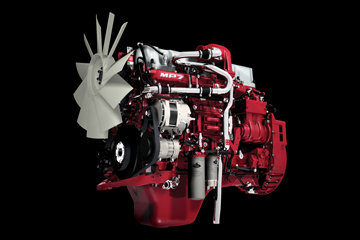 Mack Gets Thumbs Up From EPA And Customers
Mack Trucks, Inc. today announced that the U.S. Environmental Protection Agency has certified its MP engine series to the 2007 emissions standards that went into effect January 1st, 2007.
Mack is using a combination of proven exhaust gas recirculation technology and a diesel particulate filter to satisfy the new requirements, which reduce allowable levels of NOx by a minimum of 50% and particulates by a minimum of 90% from today's already very clean levels.
"This milestone further confirms the effectiveness of our '07 solution, and the fact that we are ready to deliver the performance and value that our customers expect and demand from Mack," said Paul Vikner, president and CEO.
Customers testing the new Mack® engines back up Mr. Vikner's point.
"We are very pleased with the performance of this truck," said George Strickland, general manager for JDM Materials headquartered in Huntingdon Valley, Pennsylvania, which has accumulated more than 30 000 km on a Mack US'07 Granite MP series dump truck. "Any time you get a new model, you're a bit apprehensive. This was our first experience with a Mack MP engine. And we were very anxious to see how the particulate filter would perform. So we went ahead and put the truck right into our normal operations running sand three times a day from our plant in southern New Jersey to locations in Montgomery County, Pennsylvania - about 650 km daily on a combination of highway and local roads. And we have had absolutely no issues. I would not hesitate to buy more of these trucks."
Source: Mack Trucks, Inc.