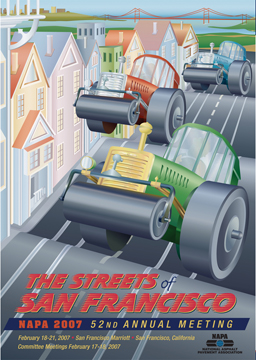 NAPA Announces 52nd Annual Meeting in San Francisco
The National Asphalt Pavement Association announced that its 52nd Annual Meeting February 18-21, 2007 at the San Francisco Marriott in California will have three general sessions and twelve educational workshops specifically designed to give information and tools to take home and use. Topics include management and leadership, fuel and asphalt, funding issues at the federal level, asphalt technology, communications, safety, and environment. Keynote speaker Jim Collins (author of best sellers Good to Great and Built to Last), starts the first general session with leadership advice on how to make a good company great and shares with attendees how to get the "right people on the bus" and "build flywheel momentum" to help business leaders grow their companies. Mr. Collins will also moderate an industry panel building on the key principles of the first general session.
Speakers Gregory M. Cohen, American Highway Users Alliance, and Dennis Faulkenberger, Ice Miller, LLC, will discuss Funding the Interstates of the Future. The Highway Trust Fund will be addressed, and a panel of leading industry experts will discuss new plans for financing the federal highway program and share the challenges of federal highway maintenance and construction.
Attendees will learn what the issues of concern are and ideas being proposed, as well as how to approach elected officials to discuss those issues.
The National Asphalt Pavement Association, which counts over 1100 member companies, is the only trade association that exclusively represents the interests of the hot-mix asphalt producer/contractor on the national level with Congress, government agencies, and other national trade and business organizations. NAPA supports an active research program designed to improve the quality of HMA pavements and paving techniques used in the construction of roads, streets, highways, parking lots, airports, and environmental and recreational facilities. The association provides technical, educational, and marketing materials and information to its members; supplies product information to users and specifiers of paving materials; and conducts training courses.