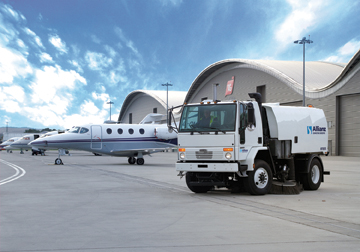 Taking Air Sweeping to a New Altitude
The Allianz Johnston RT655 is a product of engineering genius, designed and built to meet the rigorous standards of today's highly regulated sweeping requirements. It is an air regenerative sweeper that was designed to scrupulously clean the surfaces that nature, humans beings and machines pollute.
This machine produces the most incredibly powerful and continuous blast of air into a sealed hood that is pulled along over the road's surface. This air blast loosens and disturbs all debris it encounters. A suction duct within the hood conveys the newly disturbed but well trapped dirt, dust and debris, into the stainless steel hopper.
The RT655 features a gearbox driven blower, which eliminates belts and other high wear components, resulting in a lower cost of operation. The RT655 is available with a unique water recirculation system which filters water from the debris hopper resulting in less water usage and greater productivity.
The RT655 features a John Deere turbocharged diesel engine, a 6,5 m3 stainless steel debris hopper, a 950 l stainless steel water tank. The RT655 sweeps a 3,55 m wide path with its 1225 cm2 vaccum nozzle.
New MADVAC LT500 high capacity litter collector
The LT500 provides high volume litter collection in hard to reach areas, virtually transforming the traditional manual litter picker into a highly automated litter collection system, leading to increased productivity. By significantly reducing fatigue causing injuries, litter picking has never been safer than with the LT500.
The LT500 vacuums trash and litter from trash cans, landfills, highways, parks and campgrounds, composting and recycling plants, streets, ditches, alleyways, racetracks, stadiums, ports, rail stations, zoos and many other hard to reach areas.
The LT500 features a joystick controlled robotic vacuum hose arm and a stainless steel litter container.
Source: Allianz Madvac Inc.,