Meccanica Breganzese à Las Vegas!
60, 70, 90, 120! Meccanica Breganzese misera sur ces quatre numéros gagnants lors de CONEXPO-CON/AGG.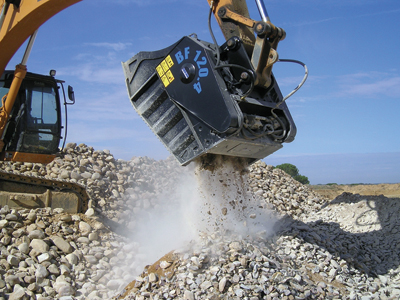 L'entreprise de Vicenza sera présente avec ses 4 modèles de godets-concasseurs de marque MB. À l'extérieur de la zone d'exposition, un véritable terrain d'essai permettra aux visiteurs de voir fonctionner le godet-concasseur. C'est dans le cadre spectaculaire de Las Vegas, sous les néons et au son des machines à sous que Meccanica Breganzese sera appelée à devenir une star... Et à gagner un autre pari incroyable.
Source: Meccanica Breganzese
---
Lancement du godet Hi-Cap Multi-Ripper®
Leading Edge Attachments, concepteur du Multi-Ripper® et du godet Multi-Ripper vous proposera à CONEXPO-CON/AGG le Hi-Cap Multi-Ripper Bucket une version à haut rendement, pour défoncer et creuser le roc.
Jusqu'à maintenant, ces godets n'étaient disponibles que pour les pelles de 100 t. Le nouveau modèle s'adapte aux pelles de 100 à 135 t. Les versions plus larges comptent 5 dents.
La technologie SHARC "staggered shanks on an arc" (dents décalées sur un arc) permet au Hi-Cap Multi-Ripper Bucket de trancher le roc friable. le principe permet à chacune des dents d'exercer la totalité de la force de creusage sur chaque dent.
Source: Leading Edge Attachments, Inc.
---
L'écrémeur 6V de Oil Skimmers est efficace pour récupérer les huiles
L'écrémeur Model 6V de Oil Skimmers Inc., permet de récupérer l'huile qui flotte à la surface de l'eau.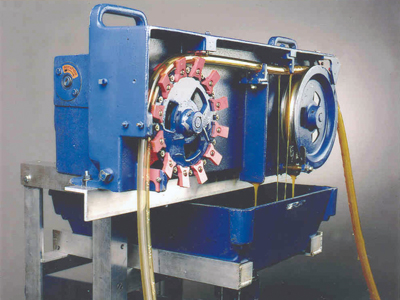 L'huile adhère à la surface extérieure d'un tube collecteur en boucle qui est lentement tiré à la surface de l'eau. Il passe ensuite dans l'écrémeur où des racleurs retirent l'huile qui peut être ainsi récupérée.
Des systèmes de montage préfabriqués permet de placer le Model 6V sur les puits, les étangs et les réservoirs fermés ou ouverts. Le Model 6V peut être muni d'ensembles isolant et chauffant pour faciliter l'écoulement de l'huile dans l'écrémeur.
Source: Oil Skimmers Inc.
---
Nite Lite aide les constructeurs de routes à y voir clair
Work Area Protection Corp. présentait récemment sa Nite Lite, le premier système d'éclairage portatif conçu spécialement pour l'industrie de la construction de routes. Légère et facile à transporter, la Nite Lite fournit une lumière blanche et non-éblouissante.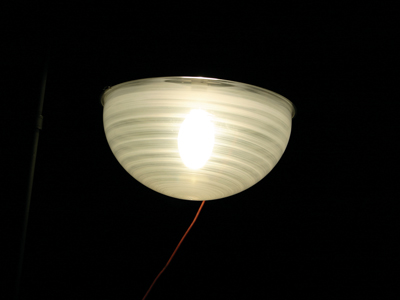 La lampe à décharge à haute intensité de 400 W est controllée par microprocesseur. Le flux lumineux nominal est de 42 000 lm, ce qui est suffisant pour éclairer une surface de 1400 m2.
Source: Work Area Protection Corp.
---
Superior Industries révolutionne les poulies de convoyeurs
Superior Industries annonce un nouveau produit qui aidera à réduire les arrêts de travail coûteux pour les utilisateurs de convoyeurs.
La poulie Chevron Wing Pulley résoudra les problèmes reliés depuis longtemps aux poulies de conception ancienne.
Des essais ont démontré que la forme en "V" des nouvelles poulies éloigne plus rapidement les roches et les autres débris des courroies, ce qui en accroît la durée.
La forme arrondie des arêtes procure un meilleur support à la courroie tout en réduisant les vibrations et le niveau sonore.
Source: Superior Industries, LLC
---
Une nouvelle garniture de friction qui dure 3 à 5 fois plus longtemps!
Tribco Inc. fabrique la première et la seule garniture de friction au monde 100% de fibre composite Kevlar®. Cette nouveauté permet aux plaquettes de frein et aux disques d'embrayage de durer trois à cinq fois plus longtemps que les pièces utilisées couramment.
Cette garniture peut être utilisée dans la plupart des applications de friction sur les véhicules et les équipements dans le secteur des travaux publics et du terrassement (freins en milieu sec ou humide, embrayages, PTO et transmissions). Le fait qu'elle dure 3 à 5 fois plus longtemps permet aux clients de Tribco de réduire leurs coûts de maintenance et d'augmenter la durée d'utilisation de leurs équipements.
La société garde en stock les pièces de rechange pour la plupart des véhicules et des équipements, regarnit les pièces usagées ou fabrique sur mesure.
Source: Tribco Inc.
---
Chargeurs de batteries autonome
Axiomatic Technologies annonce le lancement de son chargeur de batteries conçu pour recharger les batterie au plomb-acide de 12 V ou 24 V de façon complètement autonome à un courant maximal de 10 A.
Une fois programmé pour un certain type d'accumulateur, le chargeur ne requiert aucune implication de la part de l'opérateur dans le processus de recharge ; l'appareil détecte automatiquement la présence de la batterie, recharge celle-ci à sa capacité maximale et maintien sa charge automatiquement aussi longtemps que l'appareil est branché à une prise de courant. Le chargeur Axiomatic surveille également un capteur de température de batterie qui prévient la surchauffe de l'accumulateur.
Source: Axiomatic Technologies
Meccanica Breganzese in Las Vegas!
60, 70, 90, 120: MB, Meccanica Breganzese stakes its 4 winning numbers on the more famous roulette of the world: Las Vegas.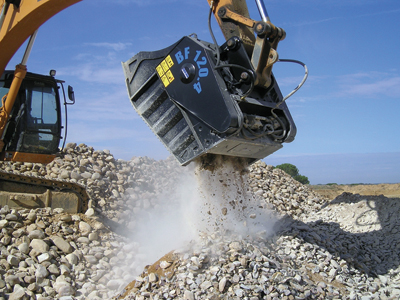 Over the years, Meccanica Breganzese has taken the leading role in this sector and features the most advanced technology.
The company from Vicenza will showcase its 4 models of MB crusher-buckets in the Central Hall. Visitors will also be able to see the crusher-bucket working and find out the additional value of the products made by Meccanica Breganzese in the demonstration area.
Source: Meccanica Breganzese
---
Introducing the Hi-Cap Multi-Ripper®
The designers of the award winning patented Multi-Ripper® and the Multi-Ripper Bucket now offer exclusively, a new larger size class Hi-Cap Multi-Ripper Bucket for ripping and digging rock.
Until now, this powerful rock digging bucket design was only available for excavators up to 100 t. The new model fits 100 t to 135 t machines. The wider versions also now have 5 shanks.
The SHARC "staggered shanks on an arc" technology allows the Hi-Cap Multi-Ripper Bucket to slice through any rip-able rock. Its power comes from the curl function, the boom force and the crowd force. The principle uses a bucket along with the power of the excavator to create a 100% breakout force when each tooth comes into contact. The staggered ripper teeth fracture the substrate in sequential order.
Source: Leading Edge Attachments, Inc.
---
Oil Recovery System Is Efficient By Continuously Removing Waste Oil
The Model 6V oil recovery system from Oil Skimmers Inc. efficiently removes oily wastes that float on the surface of water.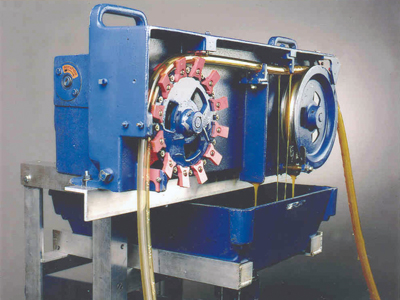 A specially formulated collector tube skims oil from the water surface. The oil adheres to the outside of the closed-loop tube, which is slowly drawn across the surface of the water and into the oil skimmer. The tube is drawn into the oil skimmer and through scrapers that remove the oil. The clean tube then returns to the water to skim more oil.
Prefabricated mounting packages simplify placement of the Model 6V on pits, ponds and open or closed tanks, thus reducing time and installation costs. For cold weather operations, the Model 6V can be outfitted with insulation and heating packages ensuring the recovered oil moves easily through the oil skimmer.
Source: Oil Skimmers Inc.
---
Nite Lite Helps Road Construction Crews View Jobsite More Clearly
Work Area Protection Corp. recently introduced Nite Lite, the first portable work zone light that has been designed specifically for the road construction industry. The Nite Lite is lightweight and easily transportable, providing a non-glaring white light for all moving and static nighttime construction projects.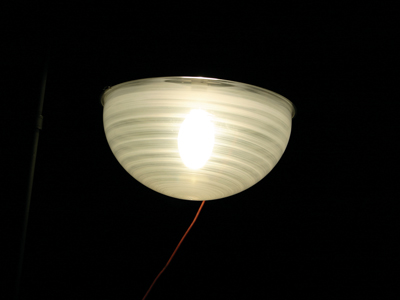 Microprocessor-controlled electronics ignite the high-intensity discharge, gas-filled lamp to provide a highly visible non-glaring light. The 400 W Pulse StartMetal Halide lamp is rated at 42 000 lm, which is sufficient to light a 1400 m2 area.
diary of Stabler Companies Inc., a holding company with companies that manufacture and market products and services for the land, roadway and utility industries.
Source: Work Area Protection Corp.
---
Superior Introduces Engineered Class CEMA F Idlers
Superior Industries introduces its CEMA F idler line as a solution to extreme material capacities and material size in the bulk material handling industry. Superior's engineered idlers are custom built per application for maximum wear life and reliability.
The CEMA F idler features 20°, 30°, and 45° troughing idlers, available in 18 cm and 20 cm diameters, and in belt widths of 91-245 cm. The 1360 kg (1270 kg on 245 cm belt width) load rating on troughing idlers is based on a minimum L10 life of 60 000 h @ 500 r/min.
Superior Industries offers a comprehensive line of conveyor systems and components for sand, gravel, aggregate, mining, concrete, asphalt, recycling, civil and marine engineering industries, coal, grain and other processing industries.
Source: Superior Industries, LLC
---
New brake and clutch lining lasts 3 to 5 times longer!
Tribco Inc. offers brake pads and clutch plates that last three to five times longer than what they replace because they are lined with Braketex® or Clutchtex® - the world's first and only 100% KEVLAR fiber composite friction lining.
According to Tribco, the 100% non-asbestos lining is ideal for all construction industry friction applications. This includes both wet or dry brakes, clutches, PTOs and power transmissions used on construction vehicles and other equipment.
In addition to longer wear life, Tribco's 100% KEVLAR lining takes heavier loads, withstands higher temperatures and engages more smoothly. It is also nonabrasive and won't scratch or score rotors, drums or flywheels in dry clutches and brakes.
Tribco's Braketex/Clutchtex lining has been performance proven in thousands of friction applications worldwide. This includes aerospace, agriculture, aviation, construction, defense, forestry, manufacturing, marine, metal forming, mining, packaging, paper, printing and trucking industry applications to name just a few.
The company stocks replacement brake pads or plates and clutch facings for many common construction vehicle and equipment applications. Tribco will also reline used plates and disks or will custom fabricate new parts to order.
Source: Tribco Inc.
---
AX090000 Series - Battery Charger
Axiomatic Technologies announces the release of a Battery Charger designed to autonomously charge automotive 12 V or 24 V lead-acid batteries with a maximum charging current up to 10 A.
The Axiomatic Technologies Battery Charger, once programmed for a certain type of battery, does not require any involvement from the operator in the charging process; the charger automatically recognizes presence of the battery, charges the battery to the maximum capacity and automatically maintains the battery charge as long as the charger is connected to the power line. The Axiomatic battery charger also monitors a remote battery temperature sensor for safe operation and prevents the battery from overheating.
Source: Axiomatic Technologies