Lafarge Opens New Alternate Solid Fuels Facility
at Sugar Creek Cement Plant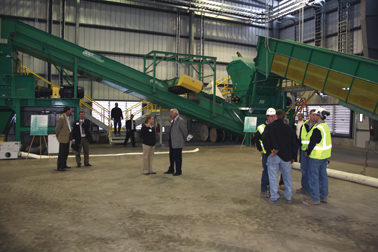 Lafarge has officially opened a new state-of-the-art alternate solid fuels facility in Sugar Creek, Missouri. At a recent dedication event cosponsored by the local chapter of the U.S. Green Building Council and the Environmental Excellence Business Network, government officials, environmental professionals, business leaders, community members, and employees celebrated Lafarge's continued commitment to the environment and to the use of sustainable resources.
Representing a US$7 million investment, the 2000 m2 facility is designed to process industrial by-product materials from manufacturing firms throughout the region into fuel required for production operations at the Lafarge Sugar Creek Cement Plant. Using this alternate solid fuel not only will meet 40% of the plant's total energy requirements but it will reduce the plant's reliance on fossil fuels (i.e., coal) by 50 000 t annually. It also diverts 50 000 t of locally generated industrial by-product materials from landfills each year.
"The reuse of materials that would normally be sent to landfills is a positive development for the environment, for the community, and for businesses throughout the region," said Rich Reuter, Sugar Creek plant manager. "Every ton we burn means one less ton of material going to landfills, less coal being mined, and fewer greenhouse gas emissions."
Located near Kansas City, Lafarge's Sugar Creek Cement Plant has a strong record of sustainable manufacturing through land stewardship, community outreach, energy efficiency, and innovation. The ISO 14001 certified plant has received the Energy Star Award from the Environmental Protection Agency in 2006 and 2007, one of only six plants in the United States to earn the award. It has also recently been named a Wildlife Habitat Council Certified Site, which is an international accreditation program that recognizes commendable wildlife habitat management and environmental education programs at individual sites.
The new alternate solid fuels program supplements the plant's existing landfill gas program, which has been collecting methane gas from two closed landfills since August 2005. This methane gas currently accounts for 7% of fuels, which is approximately 1 t/h of solid fuel, replacing about 8000 t of coal or petroleum coke annually and offsetting about 10 t of carbon dioxide emissions. With the recent addition of gas from an adjacent active landfill, methane gas could eventually account for approximately 20% of the fuel needed at the plant, replacing about 20 000 t of coal or petroleum coke annually.
"The combined use of methane gas and the industrial by-product materials as alternative fuel sources will account for over 60% of the total energy needed to operate our kilns that produce high quality cements used in the central Midwest," noted Rich Reuter.
Using by-products of one industry to make the product of another is a form of industrial ecology called co-processing. At the Sugar Creek plant, the by-product materials processed as alternate solid fuels will include cellulose, plastic, rubber, and textiles having a heat value over 0,66 kWh/kg. Material suppliers must go through a stringent approval process, including lab testing and reviews by environmental, quality, and health & safety professionals.
The alternate solid fuel system at the plant has been permitted by the Missouri Department of Natural Resources and is encouraged by the local government. Through a safe and simple two-stage process, the facility shreds the by-product materials to the size of 13 cm2 or less. The shredded material is then pneumatically conveyed into the preheater/precalciner tower and used as fuel. Once at peak capacity, Sugar Creek's system will use up to 50 000 t of alternate solid fuels per year.
"This new facility is another step forward in Lafarge's on-going efforts to further reduce its dependency on nonrenewable fuels," added Reuter. "By turning these industrial by-product materials into energy at the Sugar Creek plant, we are once again leading the way in using alternate fuel sources to protect our environment and promote a more sustainable community."
The Lafarge Group is the world leader in building materials, with top-ranking positions in all of its businesses: Cement, Aggregates & Concrete and Gypsum. Lafarge North America Inc., a Lafarge Group company, is the largest diversified supplier of construction materials in the United States and Canada. Its materials are used for residential, commercial, institutional and public works construction.
The Lafarge Group has been committed to sustainable development for many years, pursuing a strategy that combines industrial know-how with performance, value creation, respect for employees and local cultures, environmental protection and the conservation of natural resources and energy. The Lafarge Group is the only business in the construction materials sector to be listed in the 2007 "100 Global Most Sustainable Corporations in the World". To make advances in building materials, the Lafarge Group places the customer at the heart of its concerns. It offers the construction industry and the general public innovative solutions bringing greater safety, comfort and quality to their everyday surroundings.
Source: Lafarge North America