OSRAM and Banff Light the Way With Environmentally Friendly LED Streetlights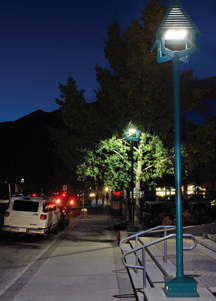 The town of Banff, located in a UNESCO World Heritage Center national park has joined forces with OSRAM to launch a pilot project to convert its street lighting to LEDs. Eight street lights have been upgraded to LED lighting with the goal of reducing energy consumption by 36%. This project is further evidence of OSRAM's pioneering role in the LED market and its commitment to lowering energy consumption for the benefit of the environment.
The town is located in Banff National Park, which was established in 1885 in the heart of the Rocky Mountains. Uniquely situated in the middle of unblemished nature, Banff has been at the forefront of environmental protection. This joint project, which was initiated together with OSRAM Opto Semiconductors, will further enhance the reputation of this community as a pioneer in environmental protection. OSRAM Opto Semiconductor has a long history in not only creating sustainable lighting products but taking a sustainable approach to product design, development, manufacturing and distribution.
"We are very excited to be working with OSRAM Opto Semiconductors on this LED lighting project to explore alternative lighting solutions," said mayor of Banff John Stutz. "Collaborations such as these are essential especially given rising energy costs and environmental concerns." The goals of the project are to gather performance data and track energy consumption information during variable weather and lighting conditions in order to identify permanent future solutions.
The eight new LED streetlights were installed just in time for daylight savings. The long life of LEDs of up to 50 000 hours (compared with 15 000 hours for the original light sources) will reduce maintenance costs over the long term and lower energy consumption will help reduce CO2 emissions. In addition, the LED streetlights maximize illumination and maintain intensity throughout the lit area better than the existing lamps. The streetlights' fixture design and sharp directional nature also adhere to one of Banff's environmental priorities, which is to help preserve and protect the nighttime environment (including views of the night sky) through quality outdoor lighting.
Source: OSRAM Sylvania Ltd.