Unimog U500 with MGM 500 High-Capacity Mulcher at inter airport Europe 2007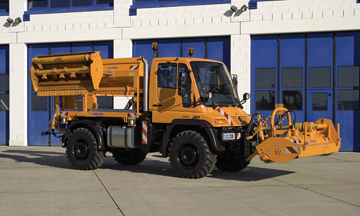 A Unimog U500 fitted with an MULAG MGM 650 high-capacity mulcher was displayed on Daimler's stand at the 16th International Exhibition for Airport Equipment, Technology & Services - inter airport Europe 2007 held in Munich last october.
The MULAG MGM 650 high-capacity mower is the ideal workmate for maintaining extensive areas of grass at airports with a working width of 6,5 m to complement the year-round operation of a Unimog U400 (with M03 option) or U500. By finely mulching the grassy areas to be mown, there is no need to remove the cut grass. Even in sensitive security areas, say near runway beacons, the MGM 650 is the right tool for the job thanks to the independent sideways movability of all the mowing heads right through to the single use of individual mowing heads.
Thanks to the automatic parking system for the rear unit and a hydraulic pressure relief system, the high-capacity mower can be operated easily and efficiently. A hydraulic starting-off lock and an automatic mowing cutter shaft cut-out when raising the mowing heads add the final touch to the mower's exemplary safety features.
As an all-round vehicle, the Unimog can take on jobs that differ by season, such as mowing, tunnel washing, pulling a sweeper/blower or operate as an aircraft tractor - the option to change implements flexibly according to the season ensures a high capacity utilisation and economical use of the carrier.
The cab boasts modern styling and is made of lightweight composite-fibre material. Inside the cab all the main controls are grouped together on a central console. Optionally, all U300 - U500 models can be supplied with the Vario-Pilot trans-ferable steering system, which allows the steering column, instruments and pedals to be transferred from one side of the cab to the other in a matter of moments.
The U300 - U500 implement carrier is powered by 900-series four and six-cylinder engines with output ratings from 156 hp to 286 hp. The Unimog is fitted with transmissions of up to 24 speeds and has permanent four-wheel drive with a lockable centre and rear differential. The optional tire pressure control system can be used to reduce or increase the air pressure in the tyres. To assist with transporting and towing heavy loads, the Unimog can be fitted with a torque converter clutch.
Source: Daimler AG