CanWEA Applauds Announcement of Canada's Largest Wind Farm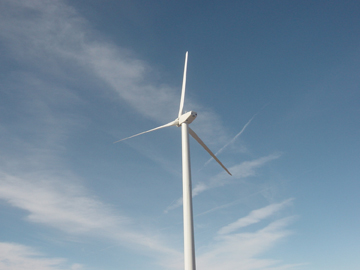 The Canadian Wind Energy Association (CanWEA) congratulated Manitoba Hydro and the Manitoba Government on news of the acceptance of a proposal by St. Joseph Wind Farm Inc. to develop Canada's largest single wind farm near Letellier in southern Manitoba. The wind farm, which is expected to begin operating as early as 2011, will feature 130 turbines producing 300 MW of electricity.
"This announcement confirms what we have been advocating for some time - that wind energy is competitively priced and able to make a major contribution to both the economic and environmental portfolios," said Robert Hornung, CanWEA president. "CanWEA and its members look forward to working with the government and Manitoba Hydro to develop even more clean power as the province aims to reach its goal of developing 1000 MW of wind energy by 2016. We are hopeful the government and Manitoba Hydro will shortly announce the timelines for processes to procure the remaining 700 MW of wind."
The St. Joseph Wind Farm project will deliver significant economic benefits to rural Manitoba, including $300 million in operational expenditures, $70 million in local landholder payments, and $198 million in provincial and municipal revenues over the life of the project. In terms of environmental benefits, the wind farm will displace 800 000 t of greenhouse gas emissions each year, the equivalent of taking 145 000 cars off the road.
This reflects the economic and environmental opportunity that wind represents across Canada, said Mr. Hornung. Canada's wind industry goal of meeting 20% of the country's electricity needs with wind energy by the year 2025 will generate $79 billion in new investments and create more than 52 000 new jobs, mostly in rural areas. Wind Vision 2025 - Powering Canada's Future, argues that Canada has the potential to make wind energy the country's next great economic and environmental opportunity.
Wind currently supplies about 1% of Canada's electricity demand, with 85 wind farms representing approximately 2500 MW of generating capacity to be in place by the end of this year.