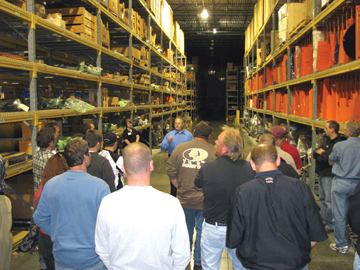 Doosan Takes Dealers, Customers on Victory Lap
Doosan hosted 118 customers and dealers from the United States and Canada to be a part of its seventh annual Customer Appreciation Weekend and NASCAR Nextel Cup Race in Atlanta, Georgia, last October.
After gathering at The Ritz Carlton-Atlanta, guests were quickly whisked off to the Doosan Infracore America Corp. headquarters in Suwannee, to get a tour of the 16 700 m2 facility to see first hand the training center, North American parts distribution area and where Doosan management and support staff call their home away from home.
After the tours, it was on the bus and southbound for downtown Atlanta and back to the Ritz for a cocktail party and dinner. During dinner, Carl Arsenault, president of Paul Equipment of Balmoral, New Brunswick, was named 2008 Doosan Demo Challenge Sales winner, with a total of 29 demos leading to 18 demo conversion sales in less than 6 months.
During 2008, Doosan held a North American sales campaign called the Doosan Demo Challenge. This was a program designed so any existing or potential customer anywhere in North America could visit their nearest participating Doosan dealer and set up a free Doosan product demonstration.
Customers who took a free demo challenge were entered to win a one day Basic Oval class at the Fast Track High Performance Driving School (the official driving school of ARCA - the Automobile Racing Club of America).
Larry Camp of Camp & Associates Inc., a NASCAR marketing firm based in North Carolina, was the keynote speaker during dinner. He provided some interesting insight into the realm of auto racing but focused his speech on overcoming tough economic conditions.
"I could talk racing all night long, but these are some tough times right now, and during tough times you need something to speak to you," Mr. Camp said.
He provided some of his favorite dynamic quotes gathered from other sources on how to react during tough times. He summed it all up by saying, "Tough times don't last, tough people do."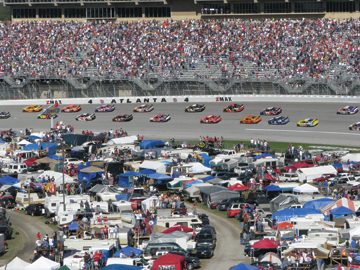 Early Sunday morning (a little too early for some) it was back on the buses for a trip south of Atlanta to Hampton, home of the Atlanta Motor Speedway for the Pep Boys Auto 500. Special guest Denny Hamlin, driver of the Joe Gibbs Racing No. 11 FedEx Toyota dropped by the suites to spend some time with the Doosan crowd.
Atlanta Motor Speedway tour guides kept the Doosan groups flowing through the pit area and gave them the inside scoop on what goes on in the garage and in the pits during a NASCAR Nextel Cup race and the intense preparation and inspections that take place on each and every car prior to running 500 miles (800 km) on a 2,5 km quad oval track. The true Joe Gibbs Racing fans waited patiently for their photo ops as the trio of Toyotas - Tony Stewart's No. 20 Home Depot car, Kyle Busch's No. 18 M&Ms car and Denny Hamlin's No. 11 FedEx car - were pushed from the garage area to pit road in a close time frame.
Afterwards, everyone made the trek back to the luxury suites high atop turn three of Atlanta Motor Speedway to watch the start of the race on one of the fastest tracks on the NASCAR circuit.
After meeting Denny Hamlin before the race, he quickly became a fan favorite of the Doosan guests who delighted in seeing him with a very comfortable lead and "checking out" with 30 laps to go. But with three cautions coming out during the last 30 laps, eventual winner Carl Edwards and Jimmie Johnson were able to slip past the No. 11 FedEx Toyota, dropping Denny Hamlin to third place. Even still, it was his best finish at Atlanta Motor Speedway.
This was the last of three customer appreciation/race weekend events held by Doosan in 2008.
"The customer appreciation events are our way of saying thank you to so many of our dedicated Doosan customers. We try to incorporate the excitement of the NASCAR environment with a relationship building opportunity for our dealers and their customers. Our customers and dealers are the key to our success, and each year we look forward to these weekends to let them know how much we appreciate them," said Michael Stanley, president and COO of Doosan Infracore America, Construction Equipment Division
Source: Doosan Infracore America