IPD Rolls Out New Gasket Sets for the Caterpillar® C18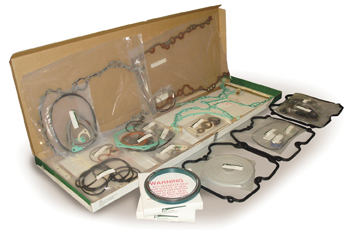 IPD is presenting a new line of the company's innovative 'IPD 1-2-3 Gasket Sets' designed exclusively for Caterpillar® C18 engines. This pioneering system of gasket groups makes the engine rebuild job easier, faster, and more accurate for the technician as opposed to ordering each piece separately.
According to Bob Straw, IPD vice president, Sales & Marketing, "This is a significant product development for IPD. It is our first entrance into this important engine range and offers the industry the first complete gasket sets. Previously, mechanics or parts personnel would have to list and order each individual gasket and seal when rebuilding these engines. We have now conveniently packaged these into the unique IPD 1-2-3 system."
These new gasket sets for the C18 series mirror the success that IPD has already had in offering complete gaskets groups for a wide range of Caterpillar® engines. Complete gasket sets provide labor and time savings, ensuring the all parts are provided as needed for rebuilds. When working in remote locations such as a ship or in a mine, a mechanic may not have access to all the parts needed to perform the work, thus having a complete IPD gasket kit can save a disaster from occurring.
Mr. Straw adds, "IPD has been in the forefront of innovations for many years in the heavy duty aftermarket. Being the first company to offer complete, quality gasket sets for the C18 engine range further shows our commitment to our distributors, engine rebuilders and engine owner customers."
IPD has been manufacturing high quality diesel and natural gas components since 1955 and is ISO9001:2000 certified. IPD is a business unit of Storm Industries Inc.
Source: IPD
Caterpillar® and CAT® are registered trademarks of Caterpillar, Inc.