Six Tower Cranes on the City Gate Project in Bucharest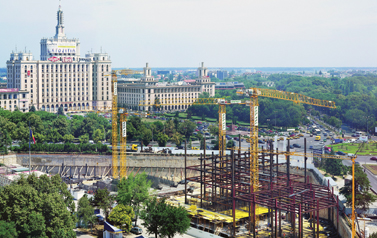 Six Liebherr tower cranes, four Flat-Top units of the EC-B series and two series H fast-erecting cranes, are in action on the construction of the City Gate Project in Bucharest, the capital of Romania.
The modern and highly functional City Gate office complex is being built directly on the main link road between the city center of Bucharest and the Henry Coanda International Airport in a two-year construction period. Standing immediately next to the Casa Presei Libere (House of Freedom of the Press), the City Gate Towers, each 75 m high, will form the gateway to ROMEXPO, the trade fair center. Extensive surfaces for administrative and commercial premises will come into being at this prime location, the office building consisting of two striking towers of 18 stories each and a total office surface area of 36 000 m?. Beneath the building complex, an underground car park on 3 levels will offer space for more than 1000 cars.
The City Gate project is being carried out by the Greek main contractors Technicaanonima Pantechniki, with an investment volume of more than 80 million ¤ ($138 million). The Rumanian construction company Bog'Art s.r.l. was charged with the implementation of the project.
Construction work was started in the summer of 2007 and involves the operation of three 110 EC-B 6 FR.tronic Flat-Top cranes, one 130 EC-B 6 FR.tronic Flat-Top crane, and two 32 H fast-erecting units.
This 6 tower cranes were delivered directly to Bucharest by the manufacturer Liebherr-Industrias Metálicas located in Pamplona. Thanks to the simplified "Connect and Work" assembly system, which Liebherr offers as standard for all Flat-Top cranes, assembly went ahead swiftly, steadily, and safely. The "Connect and Work" system consists of a completely pre-installed compact head element, quick-action fastenings for jibs and counter-jibs, and the patented LiConnect connection system. The new development LiConnect guarantees the rapid and positive interlocking connection of the jib elements by means of centring bolts.
The Flat-Top cranes were mounted on foundation anchors, and with the aid of the climbing equipment rose to hook heights of 91,5 m and 101,6 m. To achieve the planned hook heights, use was made of the 120 HC tower system. This flexible tower system, with its 5 m tower sections, is extremely adaptable. Thanks to the modular structure of the Liebherr tower cranes, this tower system can be used on all Flat-Top cranes from 90 mt to 130 mt.
The stepless drive systems prove particularly impressive when lifting loads up to 6 t, which can be positioned with absolute precision. The 2-fall operation and the high lifting speeds mean that high handling performance is guaranteed.
Source: Liebherr