ADM Builds Its 1000th Asphalt Plant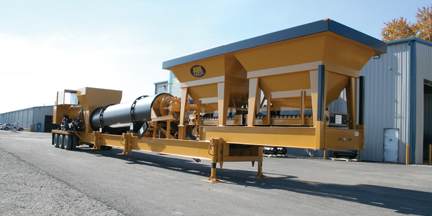 After 35 years of business, Asphalt Drum Mixers, Inc. (ADM) has received an order to build its 1000th asphalt plant, and to celebrate this milestone, the company held an open house at its Huntertown, Indiana, facility on October 21, 2009.
When the company started in 1974, it employed 11 people in a 1000 m2 factory. Since then, the operation has expanded to 60 employees and moved to its third production facility, which now covers 5575 m2. Not only has ADM significantly increased its size and output, but it also continues to develop its products and surpass the expectations of a growing customer base.
"Today, our asphalt plants incorporate the latest parallel-flow and counter-flow technologies," said Mike Devine, president of ADM. "Innovations such as these, and our ability to meet new industry challenges, have kept us going strong over the first 1000 plants...and will continue to drive us for the next 1000."
The 1000th plant will be an SPL series, which represents one of ADM's three asphalt plant designs. The SPL is capable of producing between 55 and 145 t/h, depending on the configuration. Also available are the Roadbuilder, which produces between 100 and 317 t/h, and the Milemaker, which produces between 145 and 385 t/h. ADM also manufactures a line of components for use with its line of asphalt plants as well as similar competitive models.
Source: Asphalt Drum Mixers, Inc.