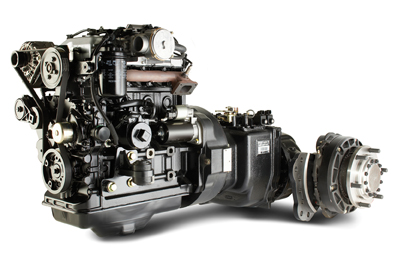 John Deere Power Systems and Crown Equipment Bring Innovative Engine to Material Handling Market

John Deere Power Systems (JDPS) is pleased to announce that it has partnered with Crown Equipment to develop and produce a 2,4 l liquefied petroleum gas (LPG) industrial engine for the new Crown C-5 Series forklift. The new engine was designed specifically to power material handling equipment in demanding applications.
"As we talked with Crown Equipment about the possibility of jointly developing an industrial engine for its new internal combustion forklift, we knew we had an opportunity to create something innovative for the material handling market," said John Piasecki, director of worldwide marketing, sales and customer support for John Deere Power Systems. "The cultural similarities of both companies created an environment for innovation that really exceeded our expectations. The engine we've developed for the Crown C-5 integrates John Deere's extensive experience in engineering and manufacturing industrial diesel engines with Crown's five decades of material handling experience. The result of our collaboration is an innovative engine that is built specifically for IC forklifts."
When developing the engine, John Deere started with its proven heavy-duty industrial diesel engine platform that powers rugged off-highway John Deere and OEM machines around the world. The new 2.4L LPG engine features a cast iron head and large, robust components that are designed for reliability, durability, and long engine life. It also offers increased horsepower and low-end torque, enabling improved performance during acceleration, incline-loaded travel, and when carrying or pushing heavy loads, according to Mike Weinert, director of worldwide engine engineering for John Deere Power Systems.
"Our business is focused on applying an ideal level of engine technology to optimize equipment performance and reliability requirements," Weinert said. "The close collaboration with Crown resulted in a strong integration between the engine and the vehicle systems allowing us to fully leverage our expertise in world-class design, development and validation."
John Deere has long been recognized as an industry leader in fuel economy and reliability in the off-highway industrial engine market. The 2.4L LPG engine continues this John Deere tradition.
Source: John Deere Power Systems