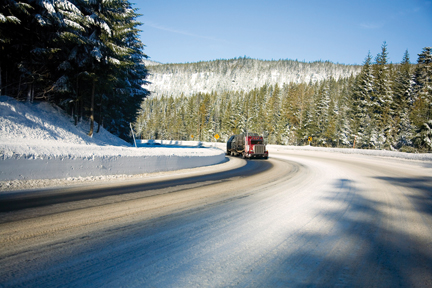 ROADLEVELER® Brake Program Helps Truck Operators Be Better Prepared for Winter Roads
Each winter, local and provincial highway agencies use liquid de-icers in their battle against snow and ice in an effort to save money and to reduce the impact of sand on air and groundwater quality.
The highway agencies spray magnesium chloride and calcium chloride on pavement in advance of a coming storm or they mix the chemicals with salt and sand.
"Since these chemicals don't readily evaporate and are highly soluble in water, chemical de-icers stick around and prevent ice from forming on the roadways, making snow removal easier," said Jeff Sass, general marketing manager for PACCAR Parts. "But those same qualities make it easier for the corrosive chemicals to penetrate truck components like brakes."
ROADLEVELER offers new and remanufactured brake components that can last longer and perform more reliably under these corrosive conditions. ROADLEVELER brake components are a licensed PACCAR brand of precision fit all-make replacement parts including brake shoes and hardware kits for medium-duty to heavy-duty trucks.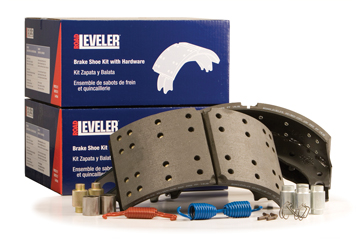 All ROADLEVELER brake products meet or exceed Federal Motor Vehicle Safety Standard 121. PACCAR Parts distributes ROADLEVELER brake products exclusively through Kenworth and Peterbilt dealers in the United States and Canada.
Each ROADLEVELER brake shoe is coined – a form of precision stamping where each brake shoe is stamped like a minted coin in a 1000 t hydraulic press – this ensures that the radius and depth of the shoe table is manufactured to OEM tolerances. Coining also eliminates the gaps between the shoe table and the friction material to prevent water and road chemical de-icers from seeping behind the friction material.
A special anti-corrosion hydraplex enamel coating is first applied through full immersion which does not leave surfaces exposed to possible environmental contaminants like chemical de-icers. Then the enamel coating is baked on at 90°C for several cycles to ensure proper adhesion.
According to the Commercial Vehicle Safety Alliance (CVSA), one out of every three trucks inspected during last year's annual brake inspection was sidelined due to defects with brakes or with their components or adjustments.
"Truck operators can be better prepared for the upcoming winter by having ROADLEVELER® brake components installed," Mr. Sass said.
Source: PACCAR