Ritchie Bros. Auctioneers Opens a New Auction Site in Grande Prairie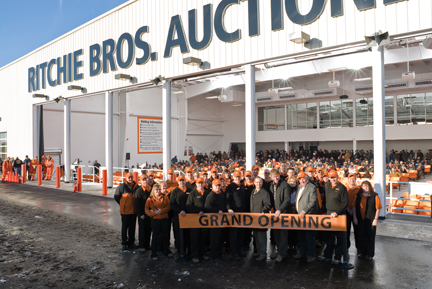 Ritchie Bros. Auctioneers celebrated the Grand Opening of its brand new permanent auction site in Grande Prairie, Alberta with a two-day, multi-million dollar unreserved public equipment auction on November 24 - 25, 2009.
"The new site is double the size of our former property," said Brian Podruzny, regional manager, Ritchie Bros. Auctioneers. "The site features a larger yard and more spacious facilities that will allow our customers to sell more equipment and provide an even greater selection of equipment at fair market value for local and international buyers."
More than 3300 people from 23 countries registered to bid on over 220 items for the construction, agriculture, transportation, oilfield, mining and other industries being sold in the auction.
Since acquiring its first auction site in Grande Prairie in 2002, Ritchie Bros. has conducted 50 auctions there. Approximately 24 ha of the new site are currently developed, with 105 ha remaining undeveloped to facilitate future expansion. The 2850 m2 auction building at the new site is the second largest auction building currently operated by Ritchie Bros. in the world.
Source: Ritchie Bros. Auctioneers