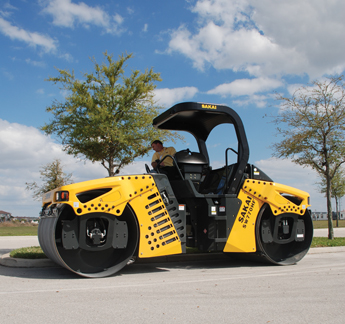 SAKAI Introduces Sleek Looking 700 Series Double Drum Rollers
SAKAI America has released two models with its new 700 Series vibratory asphalt rollers, which have a redesigned appearance and increased paving productivity.
According to Sakai, the new SW770 and SW770HF models increase paving productivity by achieving density with high amplitudes while leaving smooth finishes on all HMA (Hot Mix Asphalt) surfaces.
Sakai says the SW770 offers one frequency, 3000 vpm and two amplitude settings, low to high 0,03 to 0,063 cm, while the SW770HF offers a three frequency settings up to 4000 vpm, and the same amplitude settings as the SW770.
Both models are said to offer a drum width of 1,7 m and are suitable for a wide variety of HMA projects including municipal streets, state highways, airport runways and large parking lots.
Sakai says the 700 Series is powered by an Isuzu 4JJ1XDIA, 123hp Tier III diesel engine. Another feature is the new series' spray system which eliminates downtime during the crucial compacting stage. The spray system consists of one spray bar on each drum, rustproof tanks, stainless pipes, and brass nozzles which can be replaced by hand.
The triple filtration system prevents clogging from debris and a pressurized emergency back-up pump system provides water in the event of a pump failure.
Source: Sakai America, Inc.