Record Horizontal Anchor Holes on Turkish Highway Project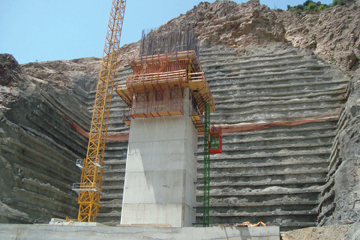 Two Sandvik Top Hammer drills have recently completed record horizontal anchor holes on an elevated highway project in Turkey using techniques generally associated with down the hole (DTH) rigs.
The highway, the Artvin-Erzurum State Road Stage II in Turkey's Eastern Black Sea region features a number of bridges.
Soil conditions determined that horizontal anchors were needed to stabilize the embankment supporting the elevated highway.
On the first three levels of anchors, main contractor, Kolín Construction, used DTH techniques to drill 30 m deep holes into the embankment using a Soilmec DTH rig and 127 mm diameter Sandvik drill bits.
Kolin opted for the non-traditional tophammer technique for drilling on this project due to the abrasive ground conditions causing considerable wear on both hammers and bits.
Under subsequent trials with a Sandvik DX 700 Top Hammer rig fitted with Sandvik T51 drilling tools and the smaller Sandvik 115 mm diameter retrac drill bits, Kolín was able to drill horizontally record breaking 24 m long, and in some cases even 30 m, anchor holes on the remaining six levels.
The Sandvik performance, using the smaller diameter drill bits and Top Hammer rigs was, according to a spokesman for Kolín, outstanding being "quicker and more cost effective using the lower cost tophammer tools, compared with DTH."
For the top three lines of anchors Kolin is still using DTH techniques, but with Sandvik RH550 hammers and 127 mm drill bits to the rig.
The nine levels cover an area of 101 m x 72 m with individual anchor holes spaced 3,5 m apart.
Muzaffer Bayazitoglu, Tools and Consumables sales manager, Sandvik Turkey, confirmed that, "it is the first time horizontal anchor holes have not only been drilled to this length in Turkey but possibly worldwide using tophammer techniques!"
The Sandvik DX 700 is a hydraulic, self-propelled, self-contained and crawler – based surface rig powered by a Cat C7 diesel engine rated at 202 hp @ 2200 rpm.
Sandvik Drill Rig sales manager, Ergun Sokulluoglu, also confirmed that the contractor was also using a DX 680 rig on the highway project; forming part of its fleet of 7 Sandvik drill rigs.
Work is shortly to start on the second bridge, once again using both drilling techniques in a repeat performance over nine levels.
Source: Sandvik Mining and Construction