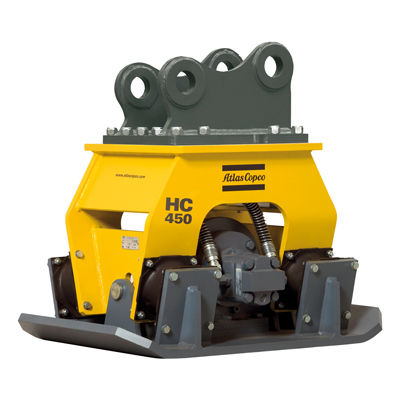 Atlas Copco presents new range of hydraulic compactor attachments
Atlas Copco Construction Tools is introducing six new hydraulic compactor attachments designed for use on carriers with an operating weight between 1 and 40 tonnes. A key innovative feature is the housing attachment offset at 15°, a design which improves force distribution on the vibrator plate while also reducing the stress and wear on the compactor even further.
These compactors are virtually maintenance-free thanks to their PermanentLube continuous lubrication system. The integrated flow rate and pressure control protects these units from overload, particularly if compactors are used on different carriers.
An Atlas Copco compactor is easily attached: no special mount is required for fitting to carriers. Standard adapter plates and attachment brackets simplify attachment to the compactor.
The hydraulic system functions without pressure-less tank return flow, thus saving time and money.
Optional backfill blades make compactors easier to use: they level the way, enabling work to progress smoothly while also deflecting material.
Compactor attachments are suitable for compacting trenches, ground soil and embankments as well as for driving in and pulling out formwork, posts and sheet piling.
Source: Atlas Copco