Terex® Bid-Well Paving Equipment at World of Concrete 2012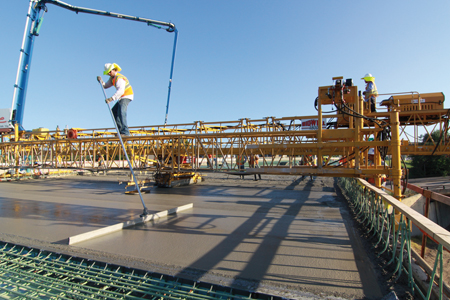 Terex Corporation will exhibit Terex® Bid-Well concrete paving equipment at World of Concrete 2012 in Las Vegas, Nevada. The Terex® Bid-Well 4800 bridge paver and Terex® Bid-Well 2418 work bridge are just a sampling of the full line of Terex Bid-Well bridge, airport, highway and canal pavers, which are manufactured at the company's new 7,432 m2 facility recently completed in Canton, South Dakota.
With standard paving widths exceeding 51.8 m, the 4800 paver display unit will be set to 11.0 m wide and will highlight several of the latest advancements that make this the preferred paver among bridge contractors. A new style fogging system features all poly tubing to increase up-time and individually controlled spray nozzles to direct the fog to where it is needed. A new skewable power crown adjuster enables operators to automatically make changes to the crown when paving bridge decks at the skew angle.
Featuring two new Evaporative Emissions compliant gas engines, the 4800 paver is one of the most flexible pavers on the market, and the show unit will be equipped with several options that tailor-suit the paver to meet jobsite conditions.
Joining the 4800 for the first time in the exhibit is the Terex Bid-Well 2418 work bridge, displayed in operating configuration. The 2418 offers a 61.0 cm wide walkway over its 45.7 cm deep truss frame, allowing crew members to cross freshly laid concrete surfaces to efficiently perform required tasks behind the paver. The smallest of three model offerings in the Terex Bid-Well work bridge line, the 2418 provides up to a 32 m standard operating width, and its telescoping end segments offer up to 3.0 m of leg travel to each side, so the work bridge can adapt to varying deck widths.
The show machine will feature two different leg designs: the standard bolt-together, fixed-height leg; and an optional screw-jack design that enables work bridge height to be raised for passing over obstructions. For road work, one side of the machine will exhibit available pneumatic tires, while the other will be equipped with powered concave wheels for riding the rails.
Source: Terex Corporation
World of Concrete 2012 booth #C5946