Clariant De-Icer Cuts Carbon Emissions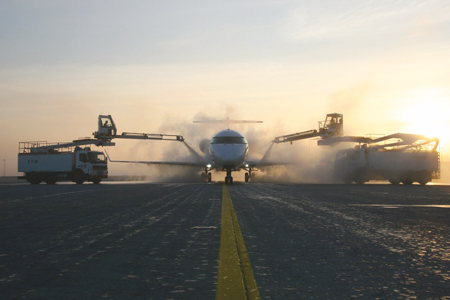 Recycling aircraft de-icer, as opposed to cleaning it in a wastewater-treatment plant, reduces its carbon footprint by 40-50%.
According to an independent study published in peer-reviewed journal, Environmental Impact Assessment Review, the carbon savings are generated in two main ways:
Displacement: the footprint of recycling is considerably less than that of manufacturing fresh de-icer – this accounts for about two-thirds of the difference to 'no recycling'.
Avoidance: recycling also avoids significant discharges of de-icer to wastewater, which creates carbon dioxide as one of its 'breakdown' products – this accounts for about one-third of the difference to the 'no recycling' case.
"Carbon savings of 40-50% is a representative figure for a typical airport in northern Europe," comments study author Eric Johnson, managing director of Atlantic Consulting. "In areas where electricity generation is particularly clean – say, Norway, Sweden or Switzerland – carbon savings will be even higher."
Recycling of conventional de-icer is also 15-30% lower-carbon than using so-called 'bio' de-icer without recycling. "The benefits of recycling, namely displacement and avoidance," says Mr. Johnson, "outweigh the benefits of using plant-based feedstocks to make de-icer."
Airports with de-icer recycling plants are still few in number. Munich Airport has run one since 1992, Zurich Airport since 2006, and a new one just opened in Norway's Oslo International Airport. Munich recycles onsite, while Oslo and Zurich recycle offsite.
Regulations in this area are getting stricter. The U.S. Environmental Protection Agency (EPA) recently ruled that airports above a minimum size must collect de-icing effluents and send them to wastewater treatment.
Source: Clariant International Ltd