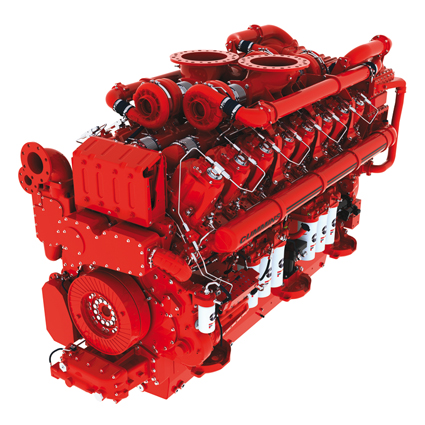 Cummins Extends Mining
Power Capability to 4000 hp
Cummins Inc. announced recently that the new QSK95 engine will provide a 4000 hp capability for ultra-class mine haul trucks, representing the highest-ever power output introduced by the company for severe duty-cycle operation. The 95 l displacement QSK95 is purpose-designed to provide enhanced strength for 327 t and 363 t (360 - 400 tons) payload-class trucks, with the capability to increase truck speeds for climbing steep-gradient haul roads and boost hauling productivity with reduced operating cycle times.
The QSK95 will be available as a global mining engine platform capable of operating at mine sites anywhere in the world and meeting all emissions standards, including Tier 4 Final in North America by using Cummins proven Selective Catalytic Reduction (SCR) after-treatment.
The 16-cylinder QSK95 reaches the mining power output previously available only from 20-cylinder engines. High power density is achieved with a hardened power cylinder featuring the strongest single-piece forged-steel piston available in the industry. Deep structural strength is provided by an all-new ductile iron skirted block. This increased strength contributes to higher engine uptime availability, extended life-to-overhaul and more cost-effective rebuilds.
The 4000 hp output of the QSK95 engine is well within its design capabilities, with potential power increases available in the future to provide the possibility for the next generation of ultra-class haul trucks to move beyond 360 t payload capacity.
Cummins next-generation Modular Common-Rail System (MCRS) enables the QSK95 to achieve high fuel-efficiency, even when operating at maximum power output. With up to 2200 bar high-pressure fuel injection, MCRS reduces noise, offers smooth idle stability and eliminates visible smoke across the entire operating range.
Source: Cummins Inc.