Interactive App Changes The Way Manufacturers Sell Products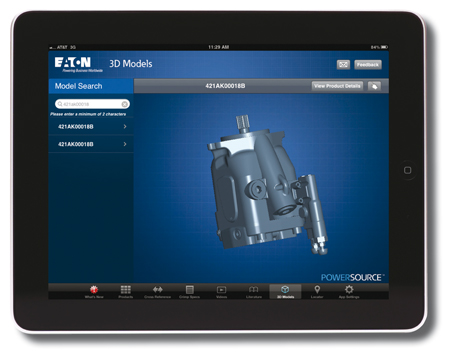 An industry-leading application from Eaton Corporation, a global diversified power management company, makes the Apple iPad® as powerful a tool for specifying and selling hydraulics products as it is for education, entertainment and social networking.
With the new Eaton app PowerSource™, Eaton sales representatives and distributors can now search, spec and sell smarter and faster than before, fundamentally changing how they interact with customers and where they work.
By providing virtually instant access to in-depth and up-to-date information on Eaton's more than 200,000 hydraulic products, PowerSource gives the Eaton sales and distribution teams a competitive edge and dramatically enhances their ability to respond quickly to customer needs and reduce buying cycle time.
"PowerSource supports customers' speed-to-market initiatives," said Scott Pharis, Eaton channel marketing manager. "It puts everything our customers need onto today's most contemporary platform, reflecting the same commitment to innovation that characterizes the Eaton technologies that help them manage power more efficiently, effectively and safely."
Available exclusively to Eaton sales teams and distributors, PowerSource was introduced at the company's recent fall distributor meeting. The application is among the leading-edge apps included in Apple's new Volume Purchasing Program for business-to-business apps.
"With this exciting new application, we're breaking new ground by demonstrating that the mobile channel can be effective for more than consumer apps," said Eric Stager, Eaton product manager, Web and Mobile, Industrial Sector. "Creating great products is only half the challenge – presenting them in new, engaging ways is the other half."
Apple and iPad are trademarks of Apple Inc.
Source: Eaton Corporation