Hydrogen Fuel Cell Bus for SunLine Transit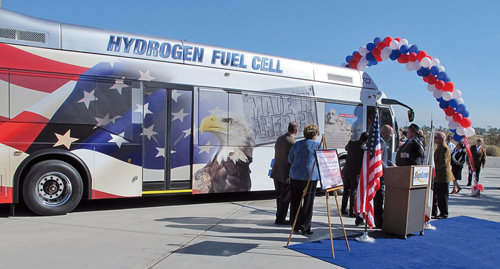 Last November, BAE Systems delivered a zero-emissions bus for SunLine Transit, a Southern California regional transit agency. Under a project aimed at leveraging improvements from previous programs to demonstrate the commercial feasibility of fuel cell technology, BAE Systems has served as the prime integrator to deliver the vehicle to SunLine Transit in an effort funded by the Federal Transit Administration, CALSTART, California Air Resource Board, and California South Coast Air Quality Management District.
The fuel cell bus, which uses no fossil fuel, demonstrates and expands the deployment of technology that eliminates tailpipe emissions and can reduce dependence on diesel fuel and compressed natural gas. The bus program applies advanced design and integration techniques and applies innovations aimed at advancing zero emission bus technology in lifecycle cost, weight, performance and reliability.
"Our partnership with CALSTART, SunLine Transit Agency, ElDorado National (California) Inc., and Ballard Power Systems has enabled the development of this environmentally friendly, fuel cell-powered heavy-duty transit bus," said Steve Trichka, general manager of vehicle systems for BAE Systems. "We look forward to continuing our work with SunLine and our other partners, demonstrating innovation in environmentally friendly transportation solutions."
The bus uses a fuel cell module supplied by Ballard Power Systems as the power plant, combined with BAE Systems' HybriDrive propulsion system. As the vehicle prime integrator, BAE Systems also supplied the electric accessory system, power management systems and advanced lithium-ion-based energy storage system.
HybriDrive propulsion technology has been in daily revenue service on buses in New York and other cities since 1998. More than 3,500 buses use HybriDrive technology to carry more than a million passengers daily.
To date, these buses have traveled more than 500 million km, saved 95 million l of diesel fuel, and prevented more than 280,000 t of carbon emissions.
Source: BAE Systems