New Catalog with QR Codes for Access to Training Videos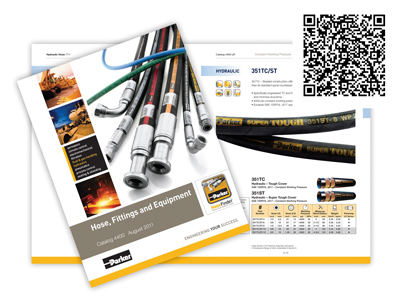 A new version of Hose Products Division Catalog 4400 is now available from Parker Hannifin Corporation, the global leader in motion and control technologies. The up-to-date guide is the fluid power professional's single best resource for product information and installation assistance for Parker hydraulic hoses, fittings, equipment, accessories and technical information.
The Hose section has been completely redesigned to include extended detail about each hose such as specifications, applicable markets and applications the hose was designed for. Complete dimension data is also listed for all of Parker's hose and fitting offerings. Technical sections include the most current chemical compatibility charts, as well as diagrams demonstrating proper hose routing, and for identifying fitting types.
For the first time, Catalog 4400 is printed with mobile Quick Response (QR) codes – 2D barcodes – that link users to additional content such as crimper training videos, the new ParkerStore Onsite Mobile Work Container Program and further product details, which can be accessed by scanning the QR image with a smart phone.
Abbreviated Hose Products Division information is also now available as a Quick Reference Guide (Bulletin 4400-B13) or Wall Chart. The Quick Reference Guide is an eight-panel foldout directory to Parker's hydraulic, Push-Lok, suction and return, transportation and refrigerant hoses, as well as specialized hoses for low-temperature, ground support and alternative/marine applications. The Wall Chart also includes Parker's complete line of hoses in a large, easy-to-read poster format for fluid power professionals.
Additionally, updated Wall Charts for the Parkrimp No-Skive 43 Series and 77 Series Crimp Fittings are available immediately for quick and easy hose assembly end connection selection.
Source: Parker Hannifin Corporation