Dutch Customs Deploys AS&E's Z Backscatter Van
to Scan Airplanes for Threats and Contraband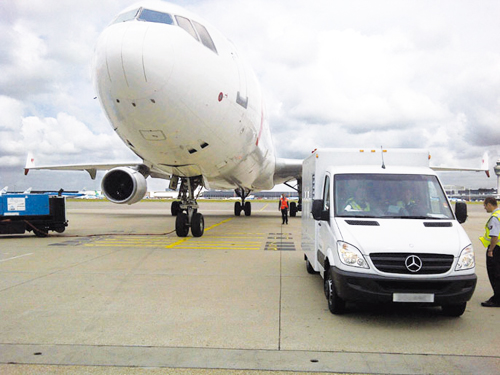 American Science and Engineering, Inc. (AS&E) announced recently that the Dutch Customs Administration in the Netherlands will deploy their recently purchased Z Backscatter™ Van (ZBV) mobile X-ray screening system to inspect commercial and cargo airplanes. The system will scan in real-time a variety of aircraft to reveal organic threats and contraband hidden in the structure of the airplane. This is the second ZBV system deployed by Dutch Customs, the other is currently in use at the Port of Rotterdam.
"Dutch Customs is leveraging the ZBV system's flexible, mobile design to scan airplanes of all sizes for drugs and contraband," said Anthony Fabiano, AS&E's president and CEO. "Working closely with our clients, we provide creative and innovative solutions for their complex detection requirements. This new application for the ZBV system provides Dutch Customs with a trendsetting solution for their unique inspection needs. Customers around the world continue to find new ways to use the ZBV system to better secure their borders to improve security in their countries."
A breakthrough in X-ray detection technology, AS&E's Z Backscatter Van is the number one selling non-intrusive cargo and vehicle inspection system on the market. The ZBV system is a low-cost, highly effective screening system built into a commercially available delivery van. The ZBV system allows for immediate deployment in response to security threats, and its high throughput capability facilitates rapid inspections. The ZBV system has an unprecedented level of worldwide success with over 560 systems sold to 115 customers in 53 countries.
The ZBV system employs AS&E's innovative Z Backscatter technology, which reveals organic threats and contraband that transmission X-rays miss – such as explosives and drugs – and provides photo-like imaging for rapid analysis. The system can drive by and scan a variety of aircraft sizes and configurations and can reveal organic contraband hidden in the structure of an aircraft.