ContiTech's Electronic Monitoring System
Enhances Conveyor Belt Safety
Longitudinal slitting in conveyor belts can be costly. Sharp objects are always ending up on the conveyor belt together with the materials conveyed, especially in the mining industry, in wood processing, or in recycling plants. "If they fall in an unfortunate position during belt loading, they may get caught up and split the moving conveyor belt longitudinally. In the worst case scenario, the belt can be written off completely," asserts Dr. Andreas Jungk, application engineer at the ContiTech Conveyor Belt Group.
More protection against failures and expensive repairs is provided by the new electronic monitoring system Conti®Protect Belt Rip Detection, which has only been on the market for a short time now. It detects longitudinal slitting early on, minimizes damage, and thus cuts cost and reduces the accident risk. This makes it possible for the conveyor belts to be used even longer. Conti®Protect Belt Rip Detection can therefore contribute to reducing operating costs and protecting the environment.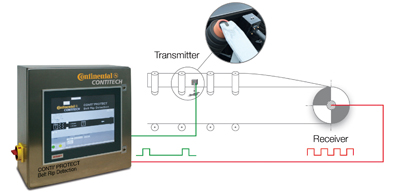 Monitoring takes place via conductor loops, which are vulcanized into the conveyor belt. These loops transmit a high-frequency signal between a transmitter and receiver. If a loop is damaged, the signal will break down on the receiver end. The system control then stops the conveyor belt automatically. How long the system needs to come to an emergency stop is determined by the distance between the conductor loops, which can vary between 20 and 50 meters. During an initial learning cycle, these distances are recognized and saved by the system.
The new monitoring system is also extremely easy to use. "All the signal sequences can be called up electronically so that, if necessary, one can conclude from them about the quality of the loops. An Ethernet connection means that the system can be controlled via a PC and also via the Internet," explains Dr. Andreas Jungk. Many of the systems allow ContiTech specialists to connect to the system on request to carry out remote maintenance. All of the components used in the Conti®Protect Belt Rip Detection system are extremely robust, which enables them to meet the high demands of the mining and bulk material industries.
Source: ContiTech AG