Atlas Copco Marketplace Web Page Now Smartphone-Friendly
After a complete redesign of its Marketplace web page in April 2012, Atlas Copco has now made the site smartphone-friendly. The mobile website makes accessing used Atlas Copco equipment even easier.
Accessible via www.atlascopcomarketplace.com, the mobile website is one of several improvements since the site's 2008 debut that make the online service even more useful to customers. For instance, it is now possible for visitors to see images and read equipment listings in detail without having to log on to the site first. A "print a brochure" function allows users to create PDFs to email or print out as hard copy.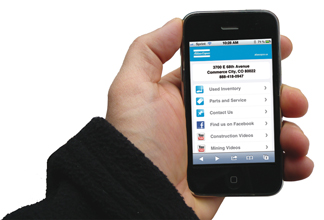 The home page includes a featured unit of the month and links to pages dedicated to such things as financing and global equipment availability.
Atlas Copco also promises to keep the site current. Finance rates for equipment will be updated monthly. Parts and service specials will be updated monthly or quarterly, depending on the program. Links to additional content and various other Atlas Copco microsites and web pages will be provided as they are available or change.
Source: Atlas Copco