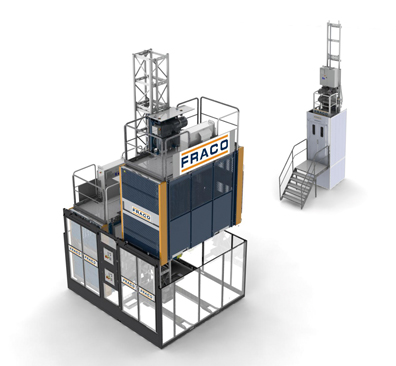 Fraco Broadens its Product Line
Canadian manufacturer of mast climbing work platforms Fraco Products Ltd, is proud to announce the addition to
its range of products of two types of hoists; the SEH Series and the SEL Series. Both can be installed permanently or temporarily and both address building construction and
industrial applications.
Designed for transport of personnel and material, SEH Series construction hoists are available in single or double cabin. They offer a load capacity of 1 550 lb to 7 000 lb and
moving speeds varying from 0-130 ft per minute to 0-295 ft per minute (0-330 ft available with counterbalance system).
All cabins are closed and their size depends on customer
needs. Thus, the length of the inner cabins varies from 10 ft to 16 ft, while the width and height are usually 5 ft and 7 ft. All SEH Series models provide a "rack and pinion" lifting
mechanism and they are equipped with electric motors that meet eco-energetic standards. Each unit is made of galvanized steel and includes several checkpoints. To ensure the safety of users and other people, SEH Series elevators feature an enclosed base, vertical sliding doors, and security locks. These hoists find their applications in building construction projects, construction or repair of bridges, or during construction or renovation of power plants.
On the other part, Fraco SEL Series industrial lifts are designed to withstand harsh outdoor and indoor environments and intensive use. They are made to be installed in virtually any structure and they provide a safe and efficient transportation of personnel, tools and light equipment. All SEL Series models are single modular cabin and fully closed. Load capacity ranges from 880 lb to 7 050 lb and travel speeds are the same as those of the SEH Series. The size of the lift depends on its load capacity and on applicable standards. SEL Series are intended to be permanently installed. They address industries such as mining, petrochemical, and pulp & paper. Sectors such as offshore drilling platforms and power generation are also two markets targeted by this type of equipment.
President of Fraco Products Ltd., Mr. Armand Rainville, has no doubt that the market for construction elevators and industrial lifts will grow tremendously over the next decade.
As he mentions, "it was natural that Fraco broadens its product line, especially as these new products are aimed at markets we already serve".
Source: Les Produits Fraco Ltd.