Golder Associates Employee Wins CIP Young Planner of the Year Award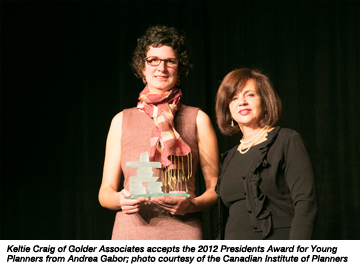 The Canadian Institute of Planners (CIP) has presented Keltie Craig of Golder Associates Ltd. with their 2012 Presidents Award for Young Planners. Ms. Craig was chosen as this year's recipient because of her vision, leadership and professional achievement as a Canadian planner under the age of 35.
Craig is a planner with Golder's Planning and Landscape Architecture Division, created when Golder merged with HB Lanarc in 2011. Since joining HB Lanarc four years ago, Craig has worked on a range of municipal and regional planning projects, including a comprehensive sustainability plan for Canada's Capital Region; Port Coquitlam's Environmental Strategic Plan; and a Cycling Plan for Ladysmith, BC. She recently led the development of CIP's Healthy Communities Practice Guide.
"Planning inspires me to make positive changes in the communities I work with," says Craig. "Winning the President's Award for Young Planners is a recognition of the work I've been doing—along with my colleagues at Golder—to build healthier, more sustainable communities."
"At Golder, we're committed to giving our people the freedom to excel and supporting their passion to make a difference. We are proud to congratulate Keltie for this recognition of her achievements," says Jeanette Southwood, Golder's Global and Canadian Sustainable Cities Leader.
"I am lucky to work in a company with people who share my passion, energy and enthusiasm for planning, "added Craig, "and the recent merger with Golder has opened new doors for integrating planning with other disciplines."
This marks the second time a Golder employee has received this prestigious honour—Janine de la Salle, a planner in the same office, was the first recipient of the award in 2010. "It must be something in the water," joked Craig.
Source: Golder Associates Ltd