Terex® Articulated Trucks Pull their Weight in the Mines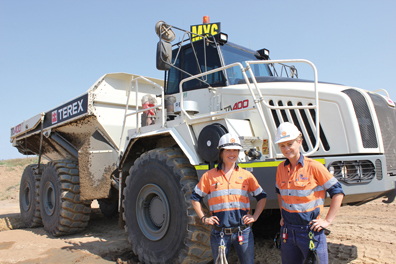 Boasting a string of mines spanning an area of around 150 km, Central Queensland's Bowen Basin contains one of Australia's largest coal deposits. As well as a major export earner, the coal mines employ large numbers of people, many of whom work for contractors involved at all stages of the mining operations. Contractor, Champion Plant Hire (CPH), started operations in 2004 with just two scrapers.
Colin Ritson of CPH said, "We won a contract in the Bowen Basin to commence topsoil removal on a mine site. Initially, we used second-hand trucks, but it soon became obvious we needed more articulated dump trucks and our research and requirements lead us to the Terex® TA400. Terex was very competitive in terms of their pricing and support package. Their larger trucks and diggers had a great reputation, so we decided to put Terex to the test in the Australian construction landscape."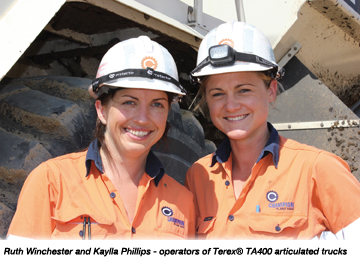 "CPH has just over 60 people employed on the site," Colin said. "Many people don't understand how remote these mine sites are. Long shifts, the inhospitable climate and the absence from friends and family for five days at a time isn't for everyone so I always try to explain the downside very clearly before people get involved. Good employees are very valuable in this tough industry. We value diversity at CPH so we were glad to have Kaylla Phillips and Ruth Winchester join our predominantly male team."
"I've always been interested in mining," said Kaylla, "and I approached Colin about taking on an administrative role at CPH similar to what I was working at that time. There was nothing available, so when Colin suggested that I might like to try my hand at the equipment I naturally jumped at the chance! I've been with CPH for about eight months now. The Terex TA400 trucks were my introduction to heavy equipment and I was surprised at how comfortable the trucks were even after long shifts. They all had power-assisted controls and everything about them was just so easy. It wasn't long before it felt like driving a car."
Ruth worked as a hairdresser and then a barber on the Sunshine Coast. While cutting Colin's hair, Ruth mentioned wanting a change of career and the conversation turned to working in the mines on heavy equipment.
Ruth said, "Colin went out of his way to try to discourage me from getting into the business he knows full well that many people don't understand the ramifications of the mine life, but I persisted and he agreed to take me through the induction process and introduce me to the Terex TA400. Six months down the track on the mine site and I truly love working with this equipment and see it as a full-time career. Of course it's very hot in summer and cold on winter mornings, but you get into a routine and just get on with the job. The cabs are fully air-conditioned and heated so once you get started, it's a very comfortable place to spend the day."
Source: Terex Corporation