3.2-Liter Power Stroke Turbo Diesel Makes North American Debut
in All-New 2014 Ford Transit
Ford's all-new Transit full-size van, which goes on sale late next year, will be offered with a new clean-running 3.2-l Power Stroke® 5-cylinder diesel, further bolstering Ford's lineup of fuel-efficient cars, trucks and SUVs.
The new diesel, Ford's second in North America, already has established a proven record for reliability, durability and refinement in the global Ford Ranger truck sold in world markets. The new Power Stroke Diesel will be the only 5-cylinder diesel engine available in a commercial van in North America.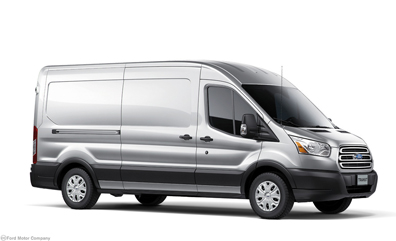 While power has not been certified for North America, the new diesel engine is rated in Europe at 197 hp @ 3000 rpm and 347 lb ft of torque between 1700-3500 rpm. The engine features state-of-the-art piezoelectric fuel injectors fed through a high-pressure common rail fuel system, and advanced emissions technologies.
The 3.2 l Power Stroke is one of several engines that will be available for Transit in North America, including the proven 3.5 l EcoBoost® gasoline engine. All engines are mated to a Ford 6R80 six-speed automatic transmission.
The 3.2 l Power Stroke is manufactured in Ford's Struandale Engine Plant in Port Elizabeth, South Africa. It will be exported to Ford's Kansas City Assembly Plant in Claycomo, Missouri.
Source: Ford Motor Company