Bosch Hits the Market with Best-in-Class Rotary Hammers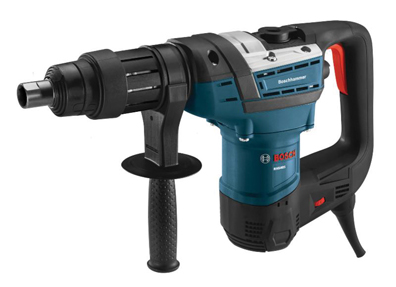 Bosch Power Tools introduces its new 1 9/16'' rotary hammers. At 8,2 kN of impact energy, according to European Power Tool Association measurement guidelines, the RH540M SDS-max® rotary hammer and RH540S spline rotary hammer are the hardest hitting, fastest drilling hammers in their class.
With best-in-class impact energy, tool users can enjoy maximum productivity in all-day drilling and chiseling applications. In fact, the RH540 rotary hammers deliver 38% more impact energy than previous Bosch models and up to 20% more impact energy than key competitors*.
Internal tests revealed that the RH540 tools are up to 50% faster than previous Bosch models and up to 10% faster than competitors.
The tools also offer users plenty of control. A variable speed dial for both drilling and chiseling applications allows users to adjust tool settings based on the application and material they are tackling, and a selector knob makes it easy to switch between hammer drilling, chiseling only and the Vario-Lock function. The Vario-Lock mechanism allows chisels to be rotated into 12 different positions to optimize working angles.
As with all Bosch SDS-max tools, the RH540M allows users to make tool-free bit changes with automatic bit locking, and offers enhanced dust protection and maximum energy transfer rate.
Source: The Bosch Group

* According to internal tests and new European Power Tool Association measurement guidelines